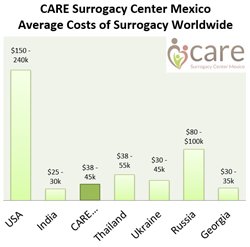 The costs of surrogacy worldwide change. The laws of surrogacy continuously change, but dreams don't change.
Chicago, IL (PRWEB) March 25, 2014
If affording surrogacy isn't overwhelming enough, couples are faced with the added pressure of future financial planning. CARE Surrogacy Center in Mexico is focused on personalized care for each intended parent.
As newfound families begin to grow — so do expenses. Parents have to plan for college tuition, growing housing costs, increasing medical fees, and by some means save for retirement.
CARE Surrogacy Center understands that family building is more than just a dream — it's building a connection that encompasses one's current situation, embraces their emotional state, and protects their financial future.
"Forewarned is forearmed — intended parents looking into surrogacy arrangements need support preparing for their future," stated Tolga Umar, CEO and Founder of CARE. "Rather than limiting one's future financial goals, we help our intended parents discover savings."
Surrogacy Around The World —
Surrogacy entails a wide range of costs and legislative limitations around the world.
Drawing sharp criticism, India and Ukraine have implemented restrictions on surrogacy arrangements. Although India has retained itself as the least expensive surrogacy location, it has banned couples who have not been married for at least two years, singles and gay couples from using surrogate mothers to become parents. Ukraine only allows intended parents from certain nations to pursue surrogacy in its country.
The Republic of Georgia offers affordable surrogacy programs, however restricts gay couples from using a surrogate. With a slightly heftier surrogacy price tag, Thailand requires an adoption process for the intended parents to be recognized as the legal parents.
Surrogacy clinics in the United States have positioned intended parents into dire financial straits with its weighty costs, while the Russian Orthodox Church has threatened to help ban Russia's expensive family building options for good.
Mexico's rising affluence has given couples — including gay couples — the best opportunity of building their family through surrogacy and staying focused on future financial planning. While the preparation, CARE acknowledges can bring pressure and frustrating moments, the Center offers a sense of balance and encouragement along the way.
Surrogacy in Mexico — Undervalued
The major valuation comparison relative to surrogacy costs worldwide point to CARE being expressively affordable — and perhaps undervalued.
"The costs of surrogacy worldwide change. The laws of surrogacy continuously change, but dreams don't change," stated Brandie Umar, Executive Director of CARE. "We identify with intended parents by thinking like intended parents. Our approach helps us to better understand the circumstances that lead intended parents to us, and successively, to enjoying one's journey."
CARE Surrogacy Center's affordable programs allow intended parents to hold on to more of their hard earned money, while continuing to save for future endeavors. In 2013, CARE demonstrated an enduring appeal with its attractive $38-45k program costs.
Can surrogacy in Mexico lead to brighter futures and better investments?
About CARE Surrogacy Center Mexico
The CARE Surrogacy Center in Mexico provides incomparable experiences for intended parents, encompassed by enhanced clinical pregnancy outcomes, abridged costs and a wide-ranging continuum of care. The vision of CARE is to represent and assist individuals and couples all over the world who want to build a family, regardless of sexual orientation or marital status. The Center embraces a positive approach to surrogacy with compassionate journey coordinators, expert IVF medical specialists using the latest technologies, and the expertise of the CARE surrogacy legal team.