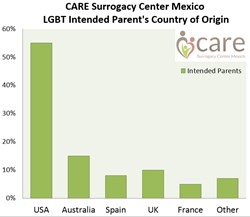 Our goal is to establish a long history of providing compassionate care to underserved members of the LGBT communities and effectively help intended parents from all walks of life.
Chicago, IL (PRWEB) January 14, 2014
While the idea of gay parenting by some is prone to abstruse beliefs and unbiased laws, the CARE Surrogacy Center in Mexico believes wholeheartedly that it is merely — a model expression of family.
Motivated by the illustrious LGBT communities around the world, the CARE team has set out to do something extraordinary for the gay communities around the world and has captivated international attention with its inspirational family building options for same-sex couples.
The Center is in part responsible for the increasing trend in surrogacy abroad. In 2013, 67 percent of their entire intended parent base were gay couples and singles from across the globe, including the United States, Australia, United Kingdom, Spain, and France.
The gay surrogacy specialists at CARE are the motivating force behind the program that is cementing the identity for gay couples pursuing their dreams of building a family.
The CARE coordinators are specialists in handling same-sex surrogacy journeys with empathy and confidence. In a sensitive fashion, each member of the team takes pride in knowing that intended parents enjoy their journeys from the very first step.
Destined For Happiness —
While CARE is giving same-sex couples the opportunity to build a family, it comes at a time when marriage equality in the United States continues to rise.
"Everyone needs a driving force. For us, it's our passion to help build families for all individuals — and we're committed to it," states Tolga Umar, CEO of CARE Surrogacy Center. "This is the type of approach expected of a company committed to delivering not only babies — but the best experiences."
As a leader in the gay surrogacy industry, the company understands there's an opportunity and a responsibility — to be a leader in the global LGBT community as well. The center intends to place a greater emphasis in the future on its international market.
Strengthening LGBT Communities —
As the first successful surrogacy program in Mexico, with a focus on educating intended parents, CARE Surrogacy Center Mexico offers an expert team to help intended parents make better decisions about their future, and plays a positive role in creating families with love.
CARE believes that honest communication is the most dynamic way to develop trustworthy relationships. This approach delivers emotional support, builds confidence, and eases the transition from intended parent to parent.
"We're ideally positioned to inspire an already strengthening market," said Brandie Umar, Executive Director of CARE. "Our goal is to establish a long history of providing compassionate care to underserved members of the LGBT communities and effectively help intended parents from all walks of life."
While the surrogacy programs at CARE are changing the family building landscape, the company is committed to supporting individuals who are passionately and powerfully proud to be gay or lesbian and empowering them to pursue their dreams in today's perplexing world.
About CARE Surrogacy Center Mexico
The CARE Surrogacy Center in Mexico provides incomparable experiences for intended parents, encompassed by enhanced clinical pregnancy outcomes, abridged costs and a wide-ranging continuum of care. The vision of CARE is to represent and assist individuals and couples all over the world who want to build a family, regardless of sexual orientation or marital status. The Center embraces a positive approach to surrogacy with compassionate journey coordinators, expert IVF medical specialists using the latest technologies, and the expertise of the CARE surrogacy legal team.