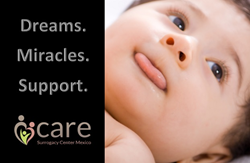 Perhaps the greatest testament to our work are the healthy babies born as a result of our honest efforts.
Chicago, IL (PRWEB) August 19, 2014
Embracing possible victims of fraud — tied to surrogacy in Thailand and Cancun — the CARE Surrogacy Center in Mexico City today expressed their displeasure for the disarray and has begun to reach out to frustrated intended parents who were misled on their journey to parenthood by other surrogacy agencies.
CARE's CEO and Founder, Tolga Umar, states "We are working attentively to help intended parents who have been deceived by the surrogacy scams. We take this matter very seriously. It's a shame that the surrogacy industry is filled with untrustworthy individuals. We wholeheartedly wish to support the intended parents who were taken advantage of, and build a positive relationship with each individual who still desires another chance to build a family."
The Right Path to Parenthood —
Thailand's government has given introductory approval for a draft law to prohibit commercial surrogacy, erupting a flood of intense media exposure regarding alleged surrogacy scandals. Thailand's government states that anyone who hires a surrogate mother or offers surrogacy through a commercial business will be violating a criminal law.
Despite the frustrations and distress caused by Thailand's surrogacy shutdown, couples from Australia are now turning to surrogacy in Mexico to pursue their dreams of parenthood. Gay Intended Parents, especially, are looking to the CARE Surrogacy Center to help turn this temporary setback into a parenting reality.
CARE delivers a full-service surrogacy program that not only offers step-by-step surrogacy guidance through the significant moments of surrogacy, but has committed to help intended parents and surrogate mothers manage the tedious trials with simplicity and happiness.
How to Deal with Surrogacy Fraud —
Surrogacy fraud poses a serious concern across the world, including Thailand, the United States — and threatens to scare away hopeful intended parents who worry about the safety of their financial future, losing the opportunity for a potential pregnancy, and tarnishing their own livelihood.
CARE Surrogacy Center encourages any individual who suspects that their contracted surrogacy agency has committed fraud to seek legal help immediately. Most importantly, this will allow a court to determine appropriate consequences.
Streamlined, comprehensive, and transparent service options make the experience truly inviting at CARE. "Perhaps the greatest testament to our work are the healthy babies born as a result of our honest efforts. We are pleased with our high success rates and proud of our commitment to provide high quality, affordable, personalized care to each of our intended parents, surrogate mothers, and newborn babies," stated Brandie Umar, Executive Director of CARE Surrogacy Center.
Singles and couples who want more information about surrogacy programs in Mexico should refer to the company's website. Expectant parents may also speak with the CARE legal team to become familiar with the laws regarding surrogacy in Mexico or connect with CARE through Skype (surrogacymexico), Facebook, and one-on-one surrogacy consultations with the company's compassionate journey coordinators.
About CARE Surrogacy Center Mexico
The CARE Surrogacy Center in Mexico provides incomparable experiences for intended parents, encompassed by enhanced clinical pregnancy outcomes, abridged costs and a wide-ranging continuum of care. The vision of CARE is to represent and assist individuals and couples all over the world who want to build a family, regardless of sexual orientation or marital status. The Center embraces a positive approach to surrogacy with compassionate journey coordinators, expert IVF medical specialists using the latest technologies, and the expertise of the CARE surrogacy legal team.
Connect with CARE on September 13-14 at the Men Having Babies Conference in Chicago.