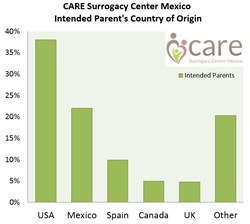 The new office represents our commitment to growing our business and providing advanced communications, greater intended parent support and enhanced surrogacy programs
Chicago, IL (PRWEB) January 07, 2014
As some envision surrogacy as a desperate measure — complicated by overwhelming financial, religious, legal, and political matters, the CARE Surrogacy Center Mexico sees it solely as the gift of life. And not simply because of the incredible power of caring individuals.
Created for those who demand honest, uncompromising services, the Center delivers the ultimate family building experience, for intended parents and surrogates alike.
As Mexico's leading surrogacy organization, it announced today that it recently opened new offices in Mexico City — enlarging their global footprint.
The Center's Executive Director, Brandie Umar states, "We've been developing our CARE program in Mexico for the past two years. It's always been important for us to have an all-encompassing center and a trained team. Since the ban in India, Mexico has become the leading destination. It's all about the timing for us. This expansion will allow us to make the necessary infrastructure changes to further assist our intended parents."
The expansion allows the Center to take on the most challenging of infertility cases in which many who have been failed by IVF treatment or were excluded from treatments because of sexual orientation and unbiased laws — are enthusiastically welcomed with open arms.
"The new office represents our commitment to growing our business and providing advanced communications, greater intended parent support and enhanced surrogacy programs," states Tolga Umar, CARE Surrogacy Center Mexico CEO and Founder. "Our focus is always the experience of the IP's. We have had tremendous success and we continue to see potential for more growth."
Philadelphia Couple Expecting Baby Boy —
The announcement follows the incredible pregnancy news for CARE intended parents, Dr. Ted and Carmela.
Prominent Philadelphia dentist, Dr. Ted Steliotes of Steliotes Dental Spa, is enthralled by the way the CARE Team made his journey to parenthood nurturing. "We get weekly reports and video and heart beat sonograms nearly every week. They see the surrogate every week. And I mean every week...that does not happen in the USA. I celebrate CARE Surrogacy."
Carmela Piroli is also delighted and inspired by the CARE team. Now on her blog, Get Me To Zen, Carmela recommends her experience with CARE to other infertile couples after struggling with infertility for years.
"The entire Care Surrogacy Mexico team are taking excellent care of our surrogate and baby. Recently, I found out that my surrogate mother is expecting a baby boy! Needless to say I am elated and feeling very grateful my surrogate and baby are doing very well."
The Magical Experience of Mexico City —
With the world of fertility law involving intricacies often considered displeasing — growing your family can be a magical experience.
"There is no better reward than to share the gift of having a family. Just as we have all been children we all deserve to be parents — to start our own family. It is an honor for me to know that I am part of the miracle of creating yours," states Ivan Davydov, CARE's Reproductive Lawyer.
Turning to gestational surrogacy in Mexico is a growing trend among American couples. CARE reports that 38% of intended parents who are taking advantage of CARE's surrogacy program are American.
Surrogacy is now one of the fastest-growing branches of the medical tourism industry. The new offices support this rapidly growing market and the increasing demand for affordable and trustworthy services. From the exhilaration that is obtained from the very first consultation, to the private tour and exclusive amenities provided to intended parents, the new location in Mexico City offers something for every heroic intended parent from the very first step.
About CARE Surrogacy Center Mexico
The CARE Surrogacy Center in Mexico provides incomparable experiences for intended parents, encompassed by enhanced clinical pregnancy outcomes, abridged costs and a wide-ranging continuum of care. The vision of CARE is to represent and assist individuals and couples all over the world who want to build a family, regardless of sexual orientation or marital status. The Center embraces a positive approach to surrogacy with compassionate journey coordinators, expert IVF medical specialists using the latest technologies, and the expertise of the CARE surrogacy legal team.