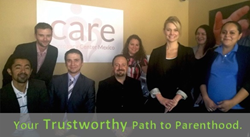 Our hearts go out to all of the hopeful parents who have been victimized both emotionally and financially by the recent events. As we continue to learn more about the surrogacy chaos in Cancun.
Chicago, IL (PRWEB) August 11, 2014
With the alleged surrogacy issues that have gained national media attention in Cancun, the CARE Surrogacy Center in Mexico is working persistently to provide trustworthy guidance to intended parents who want to build a family.
The company is giving a second chance to intended parents who fault a surrogacy program for taking their money and leaving them without the most precious gift of surrogacy — their newborn baby. On May 15, 2014, Aljazeera America reported, "...a prominent surrogacy agency in Cancun is under federal investigation, accused of leaving clients with big bills and no babies." According to documents obtained by America Tonight, Planet Hospital – which denies any wrongdoing – is now in bankruptcy.
These issues not only exist in Mexico, but also in the United States and Thailand. As far-fetched as surrogacy scandals may seem, they are factual — real life stories that are leaving more and more couples in heartache.
The CARE Surrogacy Center understands how crucial it is for all individuals seeking surrogacy programs — anywhere in the world — to understand their rights, the law, the company's background, previous testimonials and the company's step by step program before signing a contract or wiring money. The company consistently remains transparent in their day to day operations, social media, and protection for intended parents.
Encountering Surrogacy Fraud —
The aim of fraudulent surrogacy crimes is to secure a large number of intended parents in the shortest possible time — before reappearing under a new clinic name or moving to another city. By offering inexpensive and desirable surrogacy arrangements, the scammers are able to hoax individuals into the mistaken belief that they actually have a chance of bringing home a baby. This type of behavior tells the story of just how easy it is for vulnerable hopeful parents who want a baby so badly to overlook or never even notice red flags.
CEO and Founder of CARE Surrogacy Center, Tolga Umar, stated, "It is crucial that you read all of the documents and contracts before you sign your name. By law, contracts must inform you of your rights to the various family building services available. If the information is not clear, the opportunity isn't worth pursuing. With proven successful outcomes, our reproductive lawyer plays a major role in protecting the rights of our intended parents, surrogate mothers, and newborns."
The CARE Surrogacy Difference —
What the latest news stories fail to explain is how trustworthy, honest surrogacy programs in Mexico still exist. CARE has flourished over the last year by connecting couples and singles to egg donors, infertility treatments and warmhearted surrogate mothers. With a personalized touch, the center guides each intended parent through every step of the program. Located in Mexico City, logistics are a key component to the company's success. Mexico City hosts major airports and the most significantly the embassies in which intended parents are required to visit after the birth of their baby.
Ivan Davydov, Reproductive Lawyer at CARE, stated, "We are entirely aware of the excessive number of fraudulent situations arising in the surrogacy industry and the agencies who are participating in the fraud. We continually research how to prevent those guilty of fraud from corrupting the honest and successful surrogacy programs in Mexico. We advise anyone looking to build a family to visit our offices, meet our caring team and become familiar with our process."
CARE has witnessed first-hand the how one surrogacy agency and their employees — can create a trail of lies and broken promises — leaving expectant parents distraught and in some cases, stripped of their entire life savings. The company embraces intended parents with a positive approach to surrogacy with professional journey coordinators, expert IVF specialists, and the overall expertise of their surrogacy legal team.
"Our hearts go out to all of the hopeful parents who have been hurt both emotionally and financially by the recent events. As we continue to learn more about the surrogacy chaos in Cancun, we hope this national media exposure will entice the government to develop more distinct laws and standards, and we hope to help push for proper legislation and lobby for stricter surrogacy policies abroad," stated Mr. Umar.
The company hopes to shed positive light on surrogacy in Mexico and recognizes that building a family can be one of life's most trying tribulations. The CARE team is working diligently to help eliminate any unnecessary stress on one's journey to parenthood.
About CARE Surrogacy Center Mexico
The CARE Surrogacy Center in Mexico provides incomparable experiences for intended parents, encompassed by enhanced clinical pregnancy outcomes, abridged costs and a wide-ranging continuum of care. The vision of CARE is to represent and assist individuals and couples all over the world who want to build a family, regardless of sexual orientation or marital status. The Center embraces a positive approach to surrogacy with compassionate journey coordinators, expert IVF medical specialists using the latest technologies, and the expertise of the CARE surrogacy legal team. Read More about CARE in the Media.