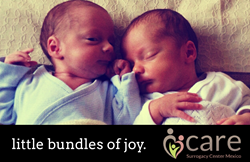 The entire year has been incredible. I cannot find the words to express how proud and happy I am to bond and help our CARE extended families.
New York, NY (PRWEB) November 06, 2014
The CARE Surrogacy Center in Mexico officially announces the debut of eleven surrogate births. With their prestigious arrival — seven boys and four girls — were welcomed by proud CARE parents from Italy, Spain, Mexico, the United States, and Colombia.
As challenging as surrogacy can be, the joy of parenthood far outweighs the struggles along the journey. It is considered one of life's greatest decisions because it simply changes everything in your life. Children become the essence of your world.
CARE's CEO and Founder, Tolga Umar, expressed intense emotion while discussing the births, "It is truly an honor (births) and a further testament to our company's commitment to evolving in the surrogacy industry and conveying programs abroad that create a progressive stage in terms of high success rates. While our pregnancy guarantee program offers instant appeal, it also admirably provides long-term success within our industry."
Core Inspiration —
Very few surrogacy agencies comprise of the kind of assets which set them clearly apart from their competitive counterparts, however the CARE Surrogacy Center has demonstrated lasting appeal amongst its intended parents.
With a profuse team effort, the CARE team represents an uncompromising nature of leaders who refuse to cut corners and by no means settle — the core inspiration behind the company's recent success.
Many individuals have overcome insurmountable odds to reach parenthood with CARE, including singles, heterosexual couples, and same-sex individuals.
CARE's Pregnancy Guarantee —
CARE Surrogacy is predestined to do what ordinary surrogacy agencies only dream is conceivable — making surrogacy affordable for all intended parents. The company is building on its proprietary programs to deliver a true experience at every turn of the surrogacy journey.
Through its role as the leading surrogacy provider in Mexico, CARE introduced its 'Pregnancy Guarantee' program earlier in 2014. The company recognizes the importance of meeting the financial needs of its intended parents.
"I am overwhelmed," stated Ivan Davydov, CARE's Reproductive Lawyer, given the wealth of wonderful birth announcements this year. "The entire year has been incredible. I cannot find the words to express how proud and happy I am to bond and help our CARE extended families. It goes without saying that we will continue to offer intended parents our full support, just as they have come to expect from us."
If you would like to meet the CARE team, the company is traveling to Spain for the upcoming inviTRA 2014 International Fertility Fair— a fair comprised of the best fertility clinics, reproductive specialists, and surrogacy agencies around the globe from November 14-16.
About CARE Surrogacy Center Mexico
The CARE Surrogacy Center in Mexico provides incomparable experiences for intended parents, encompassed by enhanced clinical pregnancy outcomes, abridged costs and a wide-ranging continuum of care. The vision of CARE is to represent and assist individuals and couples all over the world who want to build a family, regardless of sexual orientation or marital status. The Center embraces a positive approach to surrogacy with compassionate journey coordinators, expert IVF medical specialists using the latest technologies, and the expertise of the CARE surrogacy legal team. Explore our Upcoming Events.