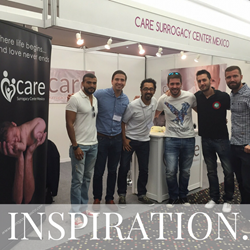 Our first priority is our intended parents. This means strengthening our team and continually refining our program to ease any burden on their journey to becoming parents.
Los Angeles, CA (PRWEB) May 19, 2015
The CARE Surrogacy Center Mexico is continually laying the foundation for the future of the surrogacy industry. The annual inviTRA Fertility Fair has become a major platform for CARE to showcase its leading surrogacy program in Mexico.
From fertility seminars to elite surrogacy specialists — there was something for everyone to feel excited about at last week's fair held at the Sants Hotel Barcelona. The fair introduced intended parents to national and international fertility clinics and surrogacy agencies — in hopes to help make the first step to parenthood easier and more appealing by acquiring significant information on their reproductive options.
"This is such a perfect event for hopeful mothers and fathers-to-be," stated Ivan Davydov, Reproductive Lawyer at the CARE Surrogacy Center Mexico. "The greatest moment at the fertility fair for me was meeting with extended CARE families who came to the fair to thank us. The newfound parents inspired us with their overwhelming excitement and gratitude for the role we played in helping them become parents. This was a special moment and exceedingly uplifting."
Making a Profound Impact —
The inviTRA 2015 Fertility Fair is a dedicated and discreet environment for intended parents to learn about fertility, explore the step by step process of surrogacy, and become familiar with umbilical cord preservation.
By the time the fair ended on its 3rd day, the CARE team met with nearly 100 attendees who were excited to learn about their options to become parents via surrogacy in Mexico. The CARE booth was jam-packed with enquiring intended parents, newly overjoyed parents living in Spain who have already built a family with the help of the CARE program, CARE's newest expecting parents from Spain, and other surrogacy specialists interested in hearing about the program's success.
"Our goal this year was to shed positive light on surrogacy in Mexico as a whole. The US media has overwhelmingly given hopeful intended parents the wrong idea as to what Mexico has brought to the surrogacy industry. We learned from a few intended parents visiting the fair that the media's depiction of surrogacy in Mexico, highlights insecurity and corruption, which swayed them from pursuing their family-building options in Mexico. While it was certainly hard to hear this type of feedback, it only empowers our team. We have had over 26 successful surrogacy journeys in our program to-date," stated Sergio Gomez, Journey Coordinator at the CARE Surrogacy Center Mexico. "The fair is just one way for us to remain invested in these hopeful mom and dads-to-be who look to us for support and continue to serve as a positive example to anyone looking to build a family via surrogacy in Mexico."
No Greater Gift Than The Gift of Life —
The CARE Surrogacy Center is committed to its founding belief of giving individuals from all walks of life the opportunity to become parents. The team's bold commitment to the journey ahead not only helps simplify the family-building experience, but also gives singles and couples the chance to unwind in the stunning locale of Puerto Vallarta — ultimately becoming just one step closer to parenthood.
Without question, the leading surrogacy center in Mexico streamlines the family-building experience. In March, inspiring new father of twins, Lucas Krecek, sat down with CARE Surrogacy Center for a candid interview on the surrogacy process in Mexico. See the entire uplifting interview, Lucas's Candid Interview with CARE Surrogacy Center Mexico.
What's next for the CARE Team? "Our first priority is our intended parents. This means strengthening our team and continually refining our program to ease any burden on their journey to becoming parents. Beyond that, our transition to Puerto Vallarta has given us tremendous aspiration as we move forward in 2015. Our team is a small group of respectable friends working right next to each other every day, so we are very excited to not only support each other, but continue to support those who dream of building a family with our help. There is no greater gift than the gift of life," stated Carolina Fonseca, CARE's IVF Specialist in Mexico.
About CARE Surrogacy Center Mexico
The CARE Surrogacy Center in Mexico provides incomparable experiences for intended parents, encompassed by enhanced clinical pregnancy outcomes, abridged costs and a wide-ranging continuum of care. The vision of CARE is to represent and assist individuals and couples all over the world who want to build a family, regardless of sexual orientation or marital status. The center embraces a positive approach to surrogacy with compassionate journey coordinators, expert IVF medical specialists using the latest technologies, and the expertise of the CARE surrogacy legal team.