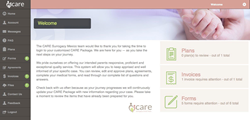 As a parent myself, I required the newly designed software to allow all of our intended parents to feel connected to the process, from any distance, at any time...
Chicago, IL (PRWEB) November 26, 2014
Adding to its philosophical portfolio, the CARE Surrogacy Center in Mexico is rolling out new software to push the surrogacy industry toward unfathomed statures. After unveiling phase one of its interactive 'CARE Package' software system this past week, CARE says it is an important stepping stone in achieving extensive case management and personalized engagement opportunities between the team and intended parents.
With deepened visibility into ones journey, the team is able to connect and assist intended parents by bridging the distance gap with real-time communication.
"Our team at CARE truly believes the next frontier in surrogacy journeys abroad is the ability to enable technological support. As a parent myself, I required the newly designed software to allow all of our intended parents to feel connected to the process, from any distance, at any time," stated Brandie Umar, Executive Director at CARE Surrogacy Center in Mexico.
"The last thing our compassionate team wants is for hopeful intended parents to be overwhelmed by fear-provoking distance throughout a surrogacy journey abroad. CARE has always operated with the highest standards of professionalism and company transparency. We are ecstatic to unveil this industry-first software after two years of concentrated development."
Innovative Surrogacy Software —
Officials at CARE confirm that the company will continue innovating with the goal of providing options that enable intended parents to be fully emerged in the surrogacy journey, and continue finding ways to guide intended parents across the globe through enriched analytics.
"As smartphones and tablets proliferate globally, CARE is focused on distinguishing its management style through innovative software. Our new release indicates how CARE is increasingly positioning itself to be more of a fundamental nucleus for intended parents. Phase one is laying the foundation for new features to be built on," stated Erhan Bagriacik, Senior Software Developer & Security Specialist at CARE.
'CARE Package' Provides Intended Parents:

Instantaneous responsive software (Smartphones, IPads, etc.)
Access to software in English and/or Spanish
Breakdown of costs and all-encompassing program details
Accurate, individualized and extensive case management
Instant-messaging for communication with CARE team members
Custom database to effectively arrange travel itinerary, concierge and clinical appointments
Structured prearrangement of medical records and ultrasound photos
Comprehensive 'contact us' section with team info and geographical assistance
Feedback section to inform management team on CARE experiences
Step-by-Step guidance throughout process
Legal agreements and CARE invoicing system
Laying the Groundwork —
As the streamlining software is being introduced to new intended parents, CARE is furthermore laying the groundwork for the New Year — as the company seeks to accelerate at high speeds.
"We understand and acknowledge that intended parents are nervous and scared when they begin their surrogacy journey abroad. To ease this startling confusion, it is our job to inform, educate, and keep them apprised of the journey from start to finish. Our technological growth allows us the ability to do that effectively," stated Mrs. Umar.
CARE executives hinted at a collection of new phases coming soon.
About CARE Surrogacy Center Mexico
The CARE Surrogacy Center in Mexico provides incomparable experiences for intended parents, encompassed by enhanced clinical pregnancy outcomes, abridged costs and a wide-ranging continuum of care. The vision of CARE is to represent and assist individuals and couples all over the world who want to build a family, regardless of sexual orientation or marital status. The Center embraces a positive approach to surrogacy with compassionate journey coordinators, expert IVF medical specialists using the latest technologies, and the expertise of the CARE surrogacy legal team. Explore CARE in the Media.