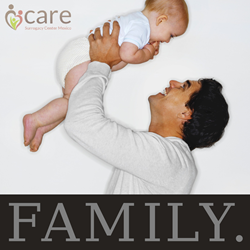 We wholeheartedly believe that every individual should have equal opportunity to pursue their dream of building a family...
New York, NY (PRWEB) November 21, 2014
CARE Surrogacy Center in Mexico is decreasing the financial burden for its intended parents — and at the same time enhancing their surrogacy journey with high success rates. Providing a renewed sense of optimism for future parents across the globe, the company is reporting on its multiple measures of success.
Prospective parents today are zoning in on the skyrocketing costs of surrogacy — and justly so. However, beyond the encumbering costs, are individuals over-stressing clinical success rates?
Fertility clinics across the map naturally use statistics that position them in the spotlight of those struggling with infertility, however the CARE Surrogacy Center puts the spotlight on more than just tangible numbers.
Measures of Success —
While success rates are not a guarantee for parenthood, nor should they be the sole source of one's decision on choosing a provider — the company takes the time to clearly educate individuals on the reality of the journey ahead.
The company encourages intended parents to review the numbers — which should be unpretentiously arranged by all variables involved, including fertility diagnosis, previous failed IVF cycles, quality of eggs and sperm, as well as number of embryos transferred — rather than age alone. Prospective parents should also gauge their experience with the medical team and become acquainted with the recommended treatment plan.
The CARE team emphasizes the vital importance of success rates is in understanding that pregnancy success comes on more than one level.
"We wholeheartedly believe that every individual should have equal opportunity to pursue their dream of building a family, and our full-circle experiences have validated that personalized fertility treatments, comfort along the journey, and a distinguished level of respect by our IVF specialists and CARE team are providing measures of success," stated Tolga Umar, CEO and Founder of CARE.
Innovative Fertility Technology —
As the leading surrogacy agency in Mexico, CARE's fertility specialists are using innovative reproductive technology and expert research to increase success rates, further enabling its mission to help build families and gain command on the perplexing effects of infertility.
Furthermore, the company has implemented its interactive 'CARE Package' software system to give extensive case management and personalized engagement opportunities between the CARE team and intended parents. With deepened visibility into one's journey, the team is able to connect and assist intended parents from a distance. The software progresses the overall surrogacy experience by bridging the distance gap with real-time communication.
CARE understands that every couple's situation is unique. Fertility doctors predominantly assess the conditions to determine the best treatment and program options. With the emotional and lifestyle needs of all intended parents at the forefront of the company's undertaking — CARE is providing incomparable experiences for parents-to-be and enhanced pregnancy outcomes moving into 2015.
About CARE Surrogacy Center Mexico
The CARE Surrogacy Center in Mexico provides incomparable experiences for intended parents, encompassed by enhanced clinical pregnancy outcomes, abridged costs and a wide-ranging continuum of care. The vision of CARE is to represent and assist individuals and couples all over the world who want to build a family, regardless of sexual orientation or marital status. The Center embraces a positive approach to surrogacy with compassionate journey coordinators, expert IVF medical specialists using the latest technologies, and the expertise of the CARE surrogacy legal team. Explore CARE's Upcoming Events.