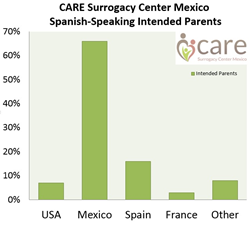 By increasing access to our content for our Spanish-speaking intended parents, we increase the reach of our message — the insightful message that if your dreams of building a family is persistently followed, it can be achieved
Chicago, IL (PRWEB) March 04, 2014
CARE Surrogacy Center Mexico, a prominent surrogacy center in Mexico City, announced today that it has launched an innovative Spanish version of the company's website.
The intended parent focused website makes it easier to navigate, comprehend and further interact with CARE's Spanish-speaking journey coordinators.
Fluent in Russian, English and Spanish — the CARE team ensures that all prospective intended parents who are fluent in Spanish will be comfortable with the guidance they receive.
"By increasing access to our content for our Spanish-speaking intended parents, we increase the reach of our message — the insightful message that if your dreams of building a family is persistently followed, it can be achieved," stated Tolga Umar, CEO of CARE Surrogacy Center.
Spanish-speaking intended parents who visit the CARE website will be able to select the Spanish version at the top right of any page, and navigate the site in their native language.
Culturally Sensitive Outreach
With very few Spanish influenced resources for those seeking surrogacy, there is a communication gap that needs to be abridged when connecting with intended parents.
The Spanish version of the website will now enable a larger audience to become familiar with the surrogacy programs available at CARE.
"For many of our intended parents, online research is often the first step to learning about surrogacy," states Brandie Umar, Executive Director of CARE. "Our goal is to help our Spanish-speaking intended parents to feel less isolated and feel confident on their journey to parenthood."
In 2013, CARE reports that over 30 percent of their intended parent base were Spanish-Speaking individuals — coming from Mexico, Spain and the United States.
With over 100 landing pages of information on surrogacy in Mexico, step by step processes and educational fertility videos, the Spanish version of the CARE website offers an alternative that allows intended parents to feel secure and helps them to overcome potential cultural barriers with surrogacy information in a native language.
About CARE Surrogacy Center Mexico
The CARE Surrogacy Center in Mexico provides incomparable experiences for intended parents, encompassed by enhanced clinical pregnancy outcomes, abridged costs and a wide-ranging continuum of care. The vision of CARE is to represent and assist individuals and couples all over the world who want to build a family, regardless of sexual orientation or marital status. The Center embraces a positive approach to surrogacy with compassionate journey coordinators, expert IVF medical specialists using the latest technologies, and the expertise of the CARE surrogacy legal team.