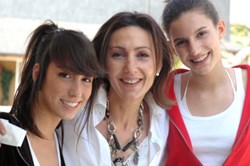 While career and college major choice may be off students' radar in light of more urgent demands like test prep, the fact is it is just as important.
Portland, Oregon (PRWEB) August 29, 2013
Career guidance leader Career Key, http://www.careerkey.org, offers new career advice for middle and high school students, helping them answer questions like, "what will I do when I grow up?" A short valid career test and free eBooks and web articles about how to choose a career and college majors help students learn more about themselves and how to make better decisions.
As middle school and high school students prepare to go back to school, it is an excellent time to "begin with the end in mind" as the popular author of "7 Habits of Highly Effective People," Dr. Stephen R. Covey has said. As statistics continue to show, post-secondary education and training is critical to achieving higher wages and better job opportunities. The process of exploring and choosing a major and training program ideally starts in middle and high school.
In the new article, "Career Advice for Middle and High School Students," former school counselor and nationally recognized counseling psychologist Dr. Lawrence K. Jones, NCC recommends several success strategies and activities students can do to boost their chances of making good decisions about their future. They include:

Career activities described in the article "How to Choose a Career,"
Learning about the respected Holland's Theory of Career Choice and how making a close personality-career and personality-major match are critical to success in college and at work;
Identifying job skills and how to acquire new ones in "Being Job and Work Skill Smart;" and
Learning about a science-based, four step process to making good decisions.
While career and college major choice may be off students' radar in light of more urgent demands like test prep, the fact is it is just as important. Establishing a general career direction before college has many benefits. It helps make school classes more relevant. It also helps students ensure that they take the right classes required as pre-requisites for college programs. Choosing a certain college or training program early also makes finding the right college or community college less overwhelming and more focused. Scholarships for certain programs of study may become available.
Middle and high school years are a great time to explore interests and try new activities and groups. Dr. Jones encourages students, with the help of their parents, to take a little time to do self-exploration activities and education planning themselves, using the many free and affordable activities recommended on the Career Key website.
About the Career Key
Since 1997, Career Key has been the #1 Internet source for helping people choose careers and college majors. Advertising and registration-free, it offers valid career tests and career and education advice articles based on the best practices and science in the field.