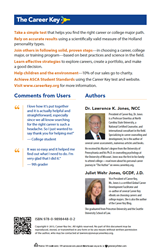 Each booklet covers career development's most important concepts in one class period or workshop.
Portland, OR (PRWEB) September 16, 2013
Career Key, http://www.careerkey.org is pleased to announce the publication of its new printed, booklet version of Career Key's scientifically valid career interest inventory. Youth and adults assess their Holland personality and identify matching careers and majors. The booklet covers career development's most important concepts in one class period or workshop.
The Career Key Test and Activities Booklet is based on the respected Holland Theory of Career Choice. Counselors, teachers and group facilitators use the booklet as a class or workshop handout to help students and adults gain career direction based on the best science and practices of career counseling.
The Career Key Booklet is available in sets of 35 booklets; each set costs $75.00 and is sold and fulfilled by Amazon.com. It is also sold in the American School Counselor Association bookstore.
Each 20-page, 5.5 x 8.5 inch color booklet includes:

The popular, valid Career Key career test where students draw their own "key" using scores for the six personality types (RIASEC);
An explanation of Holland's theory, including the hexagon so students can understand their scores and what careers might satisfy them;
Student activities including Further Career Exploration, Keep a Career Portfolio, Learn More about Yourself, and Make a Good Decision;
A short introduction to matching one's personality types to college majors and training programs; and
A QR Code that links to important resources for learning more about career information and education options.
Together, all of these help students meet the American School Counselor Association National Model competencies for the Career Development and Personal/Social Development Standards. A free guide on the Career Key website details how school counselors can use the Career Key booklet and website to meet those standards.
These high-quality color booklets are printed by Green-E certified U.S. company Greenerprinter on high-quality, 100% recycled paper with eco-friendly inks.
About the Career Key
Since 1997, Career Key has been the #1 Internet source for helping people choose careers and college majors. Advertising and registration-free, it offers valid career tests and career and education advice articles based on the best practices and science in the field. Career Key's author is nationally recognized counseling psychologist, Dr. Lawrence K. Jones, NCC, Professor Emeritus at N.C. State University.