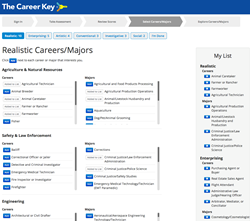 These new promising career options appear now in the online Career Key career interest inventory. A new design goes live in April 2014.
Portland, OR (PRWEB) March 20, 2014
To adapt to changes in the economy, career guidance leader Career Key, http://www.careerkey.org, has just updated its career interest inventory to include 20 new career options. This online career test takes about 10-15 minutes to complete and is an accurate, scientifically valid measure of Holland's six personality types.
The Career Key's career interest inventory is based on Holland's Theory of Career Choice, the most popular and well-studied career theory used by professional career counselors. The first part of the assessment measures the user's strongest Holland's six personality types: Realistic, Investigative, Artistic, Social, Enterprising, and Conventional. The second part shows users careers that match each personality type, nearly 450 career options in total.
New careers in green energy, technology, health sciences, and education include:
Solar photovaic installer
Wind turbine technician
Training and development specialist
Phlebotomist
Web developer
Logistician
Information security analyst
Unlike other career interest inventories, Career Key organizes matching occupations into smaller groups within each personality type. These "work groups" are based on worker traits, skills and abilities from the U.S. Guide to Occupational Exploration.
For example, within the Realistic personality type, there are several groups of careers like "Safety and Law Enforcement" and "Engineering." This system allows people to see and explore more possible career options in an intuitive way without being overwhelmed.
Each career option is linked to the specific occupation listing in the U.S. Department of Labor's Occupational Outlook Handbook, the best up to date source of career information available. This includes what the job does, its economic outlook, and the education and training required to do the job.
Both the Occupational Outlook Handbook and the Career Key are mobile friendly, easy to view and read on mobile devices.
In April 2014, Career Key will also update its online career interest inventory to add college majors and training programs.
About the Career Key
Since 1997, Career Key has been the #1 Internet source for helping people choose careers and college majors. Advertising and registration-free, it offers valid career tests and career and education advice articles based on the best practices and science in the field. Career Key's author is nationally recognized counseling psychologist, Dr. Lawrence K. Jones, NCC, Professor Emeritus at N.C. State University.