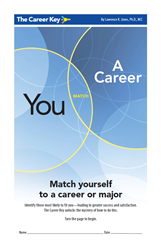 It was so easy and it helped me find out what I need to do. I'm very glad that I did it...9th Grader
Portland, OR (PRWEB) July 31, 2015
Career guidance leader Career Key, http://www.careerkey.org, has just released a new version of its printed career test booklet for middle and high school students. This printed, colorful booklet jump starts students' career exploration by matching them in 10-15 minutes to careers that fit them best. These 20 page "Career Key Test and Activity Booklets" are sold in packages of 35 on the Amazon website.
Based on the respected Holland's Theory of Career Choice and a valid measure of Holland's six personality types, the Career Key has been relied upon by professional school counselors for nearly 20 years. Career Key also offers an online version of this popular career test. Research shows that a close match between one's strongest Holland personality type and career choice leads to long term career success:

Greater job satisfaction,
Higher job performance, and
Higher salaries.
Each paper-pencil, self-scoring booklet includes essential activities for continuing to engage in career exploration, like researching careers, exploring matching college majors, creating a career portfolio, and how to make a good decision.
A student recently said the following about taking the Career Key test using the booklet:
"I love how it's put together and it is actually helpful and straightforward, especially since we all know searching for the right career is such a headache. So I just wanted to say thank you for helping me!"
About the Career Key
The Career Key test and website was developed by nationally recognized counseling psychologist Dr. Lawrence K. Jones, NCC, a Professor Emeritus at N.C. State University. In addition to being earth-friendly, Career Key donates 10% of website sales to charity. In keeping with Career Key's earthly-friendly mission, the booklets are printed with 100% recycled content and post-consumer waste, using only soy inks.