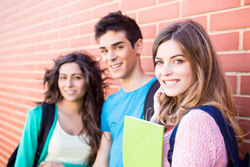 Sophomore year is also a good time to look at aptitudes which are not typically tested in high school," said Peg Hendershot, executive director of Career Vision
Chicago, IL (PRWEB) July 31, 2014
It's sophomore year of high school. There's no reason to be thinking about college yet, right? Wrong. Senior year is closer than students and parents think. On the horizon are college visits, sending out applications and waiting for acceptance packages.
According to the National High School Center, 72 percent of high school sophomores plan on going to college. The problem is many do not know what to do to prepare for the leap into higher education.
According to Peg Hendershot, executive director of Career Vision in Glen Ellyn, IL sophomore year is the perfect time to make a timeline and action plan.
"It seems early to plan, but it's not," Hendershot said. "A strong grade point average and dedication to a few extracurricular activities throughout high school will make a student a desirable candidate for many colleges. What's advantageous about an early start on college planning is there's still time to expand school activities and bump up the grade point average."
While it's too early to start sending out college applications, there are a several steps a student can take to help his or her chances of being accepted into the college of choice:
1. Have aptitudes tested and work with a counselor who is dedicated to the interpretation of the results. Make sure that parents are included in the process.
2. Take a few Advanced Placement (AP) classes. Taking an AP class is a win-win. It is wise preparation for college life and may provide college credit, too. Students need to make sure they are interested in the subject, because an AP course is more rigorous than a high school-level course. However, keep some balance in your course load.
3. Join a sports team or get involved in a school club, or two. Consistency is important. Colleges are more impressed with someone who was involved with the school play every year than the student who participated in theater for a year, music for a few months and basketball for one season.
4. Start attending college fairs and information sessions. Pick up brochures and follow up with research on websites. Visit a local college or community college. It is a smaller investment of time and money allowing the student to "practice."
5. Enroll in a foreign language class. Students who don't want AP courses can take a foreign language throughout high school to receive college credit or test out of foreign language requirements in college.
6. Volunteer for a worthy cause. Colleges are attracted to a student who gives back to the community. Schools are looking for commitment and interests, not just checking "volunteered" off your list.
7. Students should consult with their high school counselors to make sure they're prepped for junior year classes.
8. It's time to begin thinking about a budget for college. What is realistic?
College is a major investment and there are many great options. Will the family be able to afford out of state schools? Ivy League schools? Junior college?
9. Get a summer job, internship, or do some job shadowing.
10. Use the summer between sophomore and junior year to take ACT/ SAT prep classes.
Sophomore year is also a good time to look at aptitudes which are not typically tested in high school. An aptitude is something one is born with such as an ear for music or a gift for learning languages. Everyone has aptitudes which are natural talents, special abilities for doing, or learning to do, certain kinds of things easily and quickly.
"Aptitude has little to do with knowledge or culture, education or even interests," Hendershot said. "People often underestimate or aren't even aware of some areas of potential, until they are revealed through aptitude testing."
Knowing aptitudes is very helpful in selecting a college major and allows time to confirm the colleges that have the majors, reputation and the curriculum sought. This step can help with applications to the best department versus attending as an undecided. It is also easier to explore financial assistance if there is direction.
"It's a joy to help a young person discover his or her potential," Hendershot said. "We see it time and time again; aptitude testing helps so much with clarity in college planning and early career choices. It also brings the family together to plan for these next exciting steps."
Career Vision is a personalized service dedicated to helping individuals make great career decisions based on each person's unique potential. We accomplish this by partnering with our clients — applying our expertise in studying individual differences (abilities, interests, personality and values) and how these traits translate into different career possibilities. Years of research demonstrate that self-knowledge, particularly understanding one's own aptitudes (Ball Aptitude Battery®), provides an objective foundation for people beginning their career plans or making educational and life decisions.
For more information, call Career Vision at Career Vision is located at 526 N. Main St., Glen Ellyn. For more information, call 630-469-6270 or visit: http://careervision.org/.