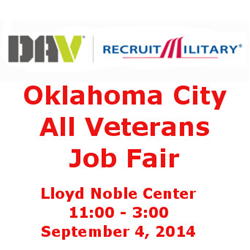 (PRWEB) August 27, 2014
World Education.net is pleased to announce that it will be among the exhibitors at the upcoming Oklahoma City All Veterans Job Fair. The event is a joint production of the DAV and RecruitMilitary, and will provide retired and transitioning military personnel and their spouses, as well as active-duty reservists and guardsmen, with the opportunity to meet with representatives of over 40 local, regional and national military-friendly employers.
Attendees will also have the opportunity to learn about online continuing education opportunities, and military financial assistance programs available through World Education.net and The University of Oklahoma's University Outreach College of Continuing Education.
The lack of career-specific training has been identified as a key factor preventing military personnel from successfully transitioning back to the private sector. A recent CompTIA survey of 865 active duty personnel and veterans who currently work in a civilian capacity found that "fewer than one in 10 personnel feel completely confident their existing skill set will sustain them throughout the remainder of their career."
Last spring The University of Oklahoma Outreach College of Continuing Education began offering World Education.net's innovative online career training programs to augment its already extensive catalog of online continuing education courses. The recently added courses include a wide range of titles in today's in-demand career fields, and qualify for the D.O.D's MyCAA scholarship program for qualified military spouses.
World Education.net's course catalog features over 200 titles, and the company focuses on providing students with the tools they need to succeed in their online studies and beyond. Upon enrolling, students are assigned a dedicated Career Coach, who provides ongoing communication and guidance over the course of their studies.
Upon completion of their studies, students receive job development assistance, including mock interviews, help in crafting a professional resume, and assistance in applying for professional certifications. Some IT and Healthcare programs also offer externship opportunities, which provide students with real-world experience in their chosen career field.
World Education.net Strategic Account Manager Connie Smith, and Director of Social Media and Marketing Kelly Fuhlman, and OU Outreach Online Education Services Administrator Bill Boni will be available to answer questions about online career training opportunities, and military tuition assistance options.
The Oklahoma City All Veterans Job Fair will be held on Thursday, September 4th from 11:00 a.m. until 3:00 p.m. at the Lloyd Noble Center in Oklahoma City. There is no cost for veterans and their spouses. Click here for additional information and to register for the event.
About DAV:
Founded by World War I veterans in Cincinnati, OH in 1920 and chartered by U.S. Congress in 1932, DAV empowers veterans to lead high-quality lives with respect and dignity by ensuring that veterans and their families can access the full range of benefits available to them. DAV, is a non-profit organization with 1.2 million members. Please visit http://www.dav.org for more information.
About RecruitMilitary:
Founded in 1998 in Loveland, OH RecruitMilitary connects employers, franchisors, and educational institutions with men and women who are transitioning from active duty to civilian life, veterans who already have civilian work experience, members of the National Guard and reserves, and military spouses and other family members. Please visit http://recruitmilitary.com for more information.
About University of Oklahoma's University Outreach College of Continuing Education:
Nationally recognized, OU Outreach extends the University of Oklahoma's educational resources through more than 30 different program formats, annually offering about 3,000 courses and activities to more than 200,000 nontraditional students wherever they are. Please visit http://www.ou.edu/outreach for more information.
About World Education.net:
Founded by eLearning pioneer Stephen Gatlin, World Education.net is committed to providing students with access to affordable, high quality instructor-based online certificate courses in a wide range of high-growth, portable career fields, as well as financial assistance and job assistance counseling to ensure their success.
Headquartered in Arlington, Texas World Education.net provides innovative online continuing education and career training solutions through accredited colleges and universities. Please visit http://www.worldeducation.net for more information.