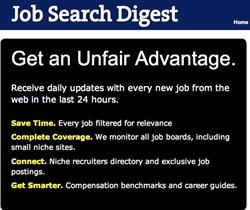 Today's job seekers need to employ the same savvy and strategy that they'll use on the job to get a job.
San Diego, CA (PRWEB) September 09, 2013
Looking for a job, or the key bit of information that will help jumpstart a career? Then be sure to set aside just one hour on Tuesday, September 10 when JobSearchDigest.com will host a free webinar titled, "The 5 Best Strategies to Drive Your Successful Job Search." Led by career consultant Pam Lassiter, this free session will begin at 1:00 p.m. Eastern (10:00 a.m. Pacific). The number of participants is limited, so early registration is suggested.
Reserve a space today.
JobSearchDigest is pleased to welcome Lassiter as the session's presenter. She is principal of Lassiter Consulting, a worldwide career services consultancy that counts individuals, Fortune 100 companies, start-ups, and venture-capital firms among its clients. Lassiter authored the book "The New Job Security," frequently offers expert opinion on national television and radio programs, and has written about career management for Fortune, The Financial Times, Fast Company, Bloomberg, CFO, Financial News Network, and other major media outlets.
Said David Kochanek, publisher of Job Search Digest, "A scatter shot approach has never been an effective method to land a job or advance a career. Today's job seekers need to employ the same savvy and strategy that they'll use on the job to get a job. In this webinar, Ms. Lassiter teaches participants how to create ongoing demand for them and their services, so they will always have choices in the job market."
Specifically, participants in the session will learn how to get the most out of their job search efforts, determine how strangers can be more helpful in finding jobs than those already in their networks, and identify mistakes that people commonly make after a professional introduction.
This webinar is open to a limited number of participants on a first come, first served basis. Reserve your space today by registering at https://www2.gotomeeting.com/register/924369330.
All registered participants who complete the September 10 session will be eligible to win one of three exclusive bonuses: a one-on-one consultation with career consultant Pam Lassiter (a $250 value); a full year of a Job Search Digest Premium subscription (a $295 value); and three participants will win an autographed copy of "The New Job Security."
About JobSearchDigest.com
Since 2002, Job Search Digest has provided web-based career services catering to investment professionals. JobSearchDigest.com serves its members by providing a human-edited investment jobs database for Private Equity, Hedge Fund and Investment Banking professionals. Its database provides the best picture of hiring in the industries it covers. The company provides unmatched convenience to its members, saving them time and providing the most comprehensive database of jobs.