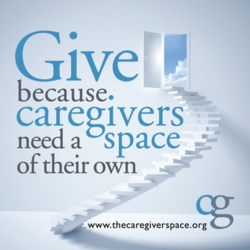 "There are 65 million caregivers in this country alone, and most of them are doing this without any real support network"
New York, N.Y. (PRWEB) July 04, 2013
On June 28, The Caregiver Space launched a crowdfunding campaign through Indiegogo to raise funds to expand their free, online support space for caregivers.
"There are 65 million caregivers in this country alone, and most of them are doing this without any real support network," said Jonah Okun, development director for the site in announcing the fundraising campaign. "We are intent on changing that. Too many people caring for their loved ones during excruciating, heart-wrenching times are on their own."
"We want our campaign: Giving Caregivers the Space They Need, to help us reach caregivers in all 50 states, to provide them with more support, and connect them with more people in their same circumstances," said Adrienne Gruberg, who founded the site at the end of 2011.
"Our goal is to raise $35,000 over 35 days," Okun said. "The need for caregiving will touch us all—we're hopeful a lot of people are going to want to contribute."
Expanded features to the site will include a new partnership with Exude Fitness to offer streaming lifestyle and fitness video segments, live chats and articles by fitness industry pioneer Edward Jackowski, Ph.D. A caregiver podcast and interactive seminars are slated to go live later this summer.
About The Caregiver Space
The non-profit site is a dedicated no-cost space for family and professional caregivers to come together to find community support through online forums, live chats and journaling to relieve and cope with the stress, fatigue and emotional upheaval that comes from working with the chronically ill and disabled.
"Caregiving is one of the most demanding responsibilities any of us can ever take on," Gruberg said. She should know. She cared for both her dying husband and mother-in-law over a six year period. "It can also be rewarding and affirming—if, and only if, the caregiver is also receiving support. That's why we created The Caregiver Space.
The site, formerly The Caregiver's Survival Network, features weekly blog columns, daily CareCards, a curated lifestyle library, Caregiver Store and For Friends and Family section.
Visit their crowdfunding campaign to learn more and donate.
For more information and personal stories, e-mail info(at)thecaregiverspace(the)org.