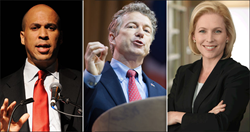 The need for federal reform is obvious and we applaud the Senators for moving this in the right direction.
Washington, D.C. (PRWEB) March 11, 2015
Patients Out of Time has endorsed The Compassionate Access, Research Expansion, and Respect States Act (CARERS) introduced in the U.S. Senate today by Senators Rand Paul (R-KY), Cory Booker (D-NJ) and Kirsten Gillibrand (D-NY).
"This is what we have waited for," said Patients Out of Time president, Mary Lynn Mathre, RN, "a sweeping overhaul of the federal regulation of marijuana. We encourage the Congress to act swiftly to enact this measure so that all the citizens of the U.S. can benefit from the remarkable therapeutic properties of cannabis."
The Senate bill represents the most far-reaching reform of the nation's drug laws since passage of the Controlled Substances Act in 1970. If enacted in its present form the bill would end the federal prohibition of medical marijuana, allowing states to set their own policies. According to the Washington Post (March 9, 2015), the bill also reschedules marijuana, overhauls the banking laws, allows veterans to have access to medical marijuana, and eliminates barriers to research.
Twenty-three states have enacted laws recognizing the medical utility of cannabis and allowing legal access by patients with various conditions. Another twelve states have CBD-only laws which provide limited access to one component of the cannabis plant.
"The states have done what they thought was best for their citizens but federal barriers have thwarted them at every turn," said Mathre. "The need for federal reform is obvious and we applaud the Senators for moving this in the right direction."
If the bill (ALB15309) is enacted CARERS would:

End the federal prohibition of medical marijuana
Reschedule marijuana from Schedule I to Schedule II
Allow states to import CBD
Allow banks to provide financial services to marijuana dispensaries
Eliminate the Public Health Service Review obstacle for marijuana research
End the NIDA monopoly on marijuana research
Allow VA physicians to recommend medical marijuana to patients
"Each one of these points is critically needed," continued Mathre. "We applaud the Senators for recognizing the will of the people and desperate need that exists for federal reform. Federal laws have become an impediment to good health care practices in this nation."
For more information about Patients Out of Time, and more information about CARERS, please visit: http://patientsoutoftime.org
About Patients Out of Time.
Patients Out of Time is a 501(c)(3) non-profit educational charity dedicated to educating healthcare professionals, organizations, and the general public about the therapeutic use of cannabis and the endocannabinoid system.
Image credits:
(Senator Booker Photo: Eugene Parciasepe / Shutterstock.com)
(Senator Paul Photo: Christopher Halloran / Shutterstock.com)
(Senator Gillibrand Photo: Official / Wikipedia.org)