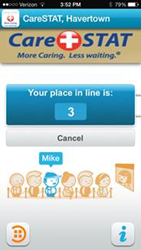 In alignment with CareSTAT's overall mission, the free app helps patients receive the affordable, quality medical care they deserve with maximum convenience.
Philadelphia, PA (PRWEB) June 25, 2014
CareSTAT Urgent Care has provided patients with the most convenient method of reserving one's place in line and tracking one's status on the list using its free smartphone app. The mobile app allows people to check themselves in to see one of CareSTAT's doctors, and then alerts them once they move closer to the top of the list, enabling patients to wait from home, work, or while out running errands rather than wasting their time sitting in a waiting room. Patients may still choose to wait at CareSTAT if they desire, or they may complete some minimal paperwork and return when the app notifies them. It is as close as it comes to Disney's "Fast Pass" in healthcare.
"Many of our patients cannot afford to take hours off of work for a doctor's visit; others are simply burdened with too many chores and responsibilities to take the time to receive the medical attention they truly need. With our new CareSTAT smartphone app, patients are able to continue working or running errands while they wait in line so they don't have to choose between health care and life's other obligations," comments Dr. Jonathan Gusdorff, the founder of CareSTAT Urgent Care and one of the practicing medical professionals at the facility.
Dr. Gusdorff founded the first CareSTAT Urgent Care center after witnessing the faults and obstacles of the health care system as a practicing physician in several different facilities. He believed that there should be a better option for patients to receive quality medical care they can afford, and set out to materialize his vision. Since launching the first urgent medical care center in Havertown in 2011, the family-owned operation has opened up three additional facilities in Folsom/Ridley Park, Abington, and most recently, Springfield.
In alignment with CareSTAT's overall mission, the free app helps patients receive the affordable, quality medical care they deserve with maximum convenience. Instructions for downloading and using the app can be found on CareSTAT's website. Evident by its cutting edge scheduling tool, the urgent care provider has continued to set the standard in health care accessibility for residents of the greater Philadelphia region.
For more information regarding CareSTAT Urgent Care or to find its four locations, please visit: CareSTATUrgentCare.com. To learn more about its smartphone app, go to: http://www.carestaturgentcare.com/patient-information/carestat-express-skeeper/. For other inquiries about CareSTAT Urgent Care, please contact Dr. Jonathan Gusdorff.
About CareSTAT Urgent Care:
Established in December 2011, the family-owned health care facility, CareSTAT Urgent Care believes patients deserve to be treated as quickly as possible in a warm, respectful environment by kind and compassionate health care providers practicing the highest quality of medicine. CareSTAT is well-known for supporting the communities it serves. With four locations throughout the Philadelphia suburbs, each facility connects together electronically providing seamless communication for staff and patients. The full service certified urgent care center takes walk-ins for most non-life threatening illnesses and injuries including onsite x-ray and stitches. For more information please visit: CareSTATUrgentCare.com, or call Dr. Jonathan Gusdorff at 610.952.6987.