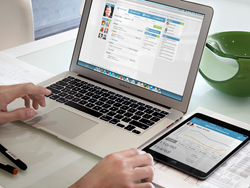 CareSync offers an innovative, technology-based service that empowers patients and doctors by collecting and organizing patient records and coordinating care for families and caregivers.
Tampa, FL (PRWEB) October 21, 2014
CareSync, a pioneer in patient-centered care coordination, announced today it has secured $4.25 million in Series A financing led by Tullis Health Investors, Clearwell Group, CDH Solutions, and CareSync Founder & CEO, Travis Bond. CareSync's consumer-centric platform has seen impressive expansion to date, and this financing allows the company to continue to scale operations to meet increasing demand.
Building on this momentum, CareSync also plans to expand its national reach, invest in additional sales and marketing resources, and increase investment in its CareSync care coordination platform.
"We began with a vision to create a patient-centered health platform that would empower individuals to own all of their data and collaborate with others to better manage their health," said Travis Bond, CareSync Founder and CEO. "Three years later, we have realized that goal of connecting people around a single source of health information, and plan to use this financing to quickly expand our national reach."
John Tullis, incoming CareSync Chairman of the Board and Partner at Tullis Health Investors commented, "CareSync offers an innovative, technology-based service that empowers patients and doctors by collecting and organizing patient records and coordinating care for families and caregivers. We look forward to working with CareSync's strong executive team to further commercialize and expand the Company to new markets."
CareSync's unique high-tech and high-touch care coordination platform makes it easy for patients and their entire care team to better coordinate care and adhere to care plans.
CareSync was recently a finalist in the SXSW 2014 Interactive Awards, voted Favorite Startup at HIMSS 2014, and selected to participate as one of the innovative startups in last month's TEDMED Hive.
CareSync currently has members in all 50 states, and in other countries around the globe. New customers can sign up online at http://www.CareSync.com or by downloading the CareSync app in the App Store or Google Play. Businesses interested in CareSync's enterprise solution can learn more at http://caresync.com/business/ or by calling 800-587-5227.
About CareSync
CareSync connects users and data to redefine the patient's role and create a better healthcare experience for everyone. Health Assistants collect all the user's medical records from all the providers to build a comprehensive Health Timeline™. Users, their families, and their care teams access, filter, and share health information with an easy-to-use Web, iPhone, and Android application. The app includes useful tools for visit planning, task management, medication adherence, vitals tracking, and syncing with wearable devices.
CareSync Pro provides a communication layer that for the first time connects healthcare providers with members, their families, and their caregivers to share valuable health information and facilitate continuity and care coordination.
To learn more about CareSync, visit http://caresync.com, call 800.587.5227, or follow us on Twitter, @CareSync.
About Tullis Health Investors
Tullis manages a family of private equity funds that provide equity and equity-related capital to small and emerging health care companies. Tullis focuses on companies that have already established operations or have completed a substantial portion of their development process for new products, technologies and services. For more information, please visit http://www.tullisfunds.com.
About Clearwell Group
Clearwell Group is a family office investment advisory business based in Tampa, FL. Clearwell Group facilitates strong family cultures through investment management, estate planning, philanthropic advisory and family business management. Clearwell Group makes control and meaningful minority investments in companies located in the southeastern United States across all stages of development. Clearwell Group invests its partners' capital with the belief that businesses can generate positive impact in addition to investment return. Clearwell Group supports high integrity entrepreneurs with a collaborative approach to creating value that leverages experience and network. This approach aligns the interests of Clearwell Group with management to achieve the best possible outcome with the right amount of capital over the right period of time. Industries of particular interest include healthcare, proven technology, food and beverage, consumer products, financial services, and software. For more information, please visit http://www.clearwellgroup.com.