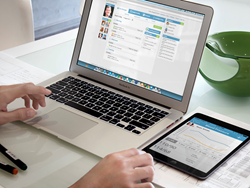 "CareSync does all the work of gathering, tracking, and sharing complete and meaningful information from medical visits, and all the important things that happen between visits."
Tampa, Florida (PRWEB) September 24, 2014
Imagine a doctor's appointment where the patient is the carrier of his comprehensive health record. His medication list and summaries of his medical activity since his last visit were sent over yesterday. The doctor questions his blood pressure value, and the patient produces a report of his readings at home for the last three months. Instead of asking the patient to come back for another reading, the doctor consults his medication list, and prescribes a treatment plan immediately. Imagine a medical visit where, by connecting people and data, everyone has a better experience.
This experience is a reality today, as CareSync announces measurement tracking with device integrations in the CareSync personal health application. The release combines users' complete medical histories from their providers with behavioral data collected from vitals trackers, wearable devices, and enhanced with self- and family-input behavioral data measurements such as pain and emotions, and as always, it is easily shared with family, caregivers, and providers.
The initial rollout of CareSync Measurements includes tracking for blood pressure, weight, and glucose, and a pain scale and journal for daily well-being documentation. Upcoming releases will incorporate more wellness, fitness, and lab data, along with the ability to compare measurement values.
"Truly patient-centric healthcare is now possible for the first time," said CareSync CEO Travis Bond, a healthcare innovator and frequent speaker on the need for patients, their families and caregivers, and their doctors having the best possible information to make the best possible medical decisions. "CareSync does all the work of gathering, tracking, and sharing complete and meaningful information from medical visits, and all the important things that happen between visits."
CareSync has partnered with industry-leader Validic to offer seamless integrations with over 80 mHealth apps and tracking devices, including:
BodyMedia, FatSecret, Fitbit (Aria), iHealth, RunKeeper, VitaDock and Withings for weight tracking. ManageBHL, TelCare and VitaDock for glucose measurements. Fitbit, iHealth, Withings and VitaDock for documenting blood pressure.
Additional devices will be added in upcoming releases.
CareSync is available for free in the App Store, Google Play, and online at http://www.caresync.com. CareSync also has low-cost personal services, beginning with a one-time fee of just $99, in which CareSync health assistants find client's medical records, organize them, and put them on the CareSync secure app.
About CareSync
CareSync, headquartered in Tampa, FL , has several levels of products to connect people and data to create a better healthcare experience for everyone. Our free secure app, CareSync 2.5 for Measurements, allows patients to upload their own medical records, plus data from wearables and other tracking devices, and input their own observations on behavior and issues such as pain and emotions.
CareSync Plus connects consumers with Health Assistants, who collect all the user's medical records from all the providers to build a comprehensive Health Timeline™, secure and user-accessible 24/7 via Web, iOS or Android app. Information on the app can be shared with any doctor, caregiver or family member the user specifies. The app includes useful tools for care coordination, task management, making doctor's appointments, doctor's appointment reminders, medication adherence, vitals tracking, and syncing with wearable devices.
CareSync Pro, our enterprise product, is designed to help organizations interested in empowering their patients to better manage their health and their wellness between doctor's appointments.
To learn more about CareSync, visit http://caresync.com, call 800-587-5227, or follow us on Twitter, Facebook or Google+.