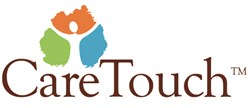 The program helps us reduce costs by automatically reaching out to patients and helping them stay on top of their therapy.
Denver, CO (PRWEB) November 19, 2013
CareTouch Communications, Inc. announced today that HME Specialists has chosen the CareTouch360™ solution to automate and simplify patient management through regular patient outreach and engagement.
In November, CareTouch began reaching out to HME Specialists' patients who are on sleep apnea therapy. The outreach program utilizes the patient's desired method of communication, including IVR, live call, email or web to monitor the adoption of PAP therapy, document compliance and manage resupply orders. The program also alerts the staff at HME Specialists if there are any immediate patient issues that require attention.
"Partnering with CareTouch enables us to focus our time on helping our customers at intake and fulfilling their resupply orders," said Dave Evans, Vice President of HME Specialists. "The program helps us reduce costs by automatically reaching out to patients and helping them stay on top of their therapy."
"We're excited about working with HME Specialists because they understand the importance of consistent patient contact," commented Matthew Dolph, CEO of CareTouch. "We help HME Specialists manage their patient population by exception so the focus is only on those patients who need assistance. This saves them time and reduces their costs."
CareTouch provides live demos of each of their solutions. Demos may be scheduled by visiting the company's website at CareTouch.net.
About CareTouch Communications, Inc.
CareTouch Communications, Inc. (http://www.caretouch.net) is a leader in patient engagement, communication and management. The company delivers complete technology solutions to Home Medical Equipment (HME) Providers. The CareTouch360™ platform is a device agnostic technology that helps patients achieve therapy compliance through regular, documented communication at established intervals. CareTouch is patient-focused and features an integrated live, multi-lingual call center, IVR and web based solutions focused on sleep and diabetic resupply, sleep adherence, oxygen equipment replenishment, nebulizer supply replenishment, payment collections and manufacturing recall notification. The company is headquartered in Westminster, Colorado.
About HME Specialists
HME Specialists (http://www.hmespecialists.com) operates throughout New Mexico and western Texas, and is a regional leader in home medical equipment, infusion therapy services and supplies. Certified by Medicare and Medicaid and accredited by the Healthcare Quality Association on Accreditation (HQAA), HME Specialists meets or exceeds national quality standards and is committed to providing exceptional, individualized care and services. Their mission is to provide the highest quality respiratory therapy and home medical equipment services, to constantly strive to exceed customer's expectations, and to be an integral part of their region's healthcare system. HME Specialists is headquartered in Albuquerque, New Mexico.