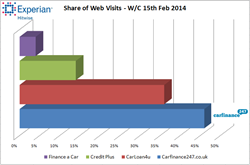 Carfinance247.co.uk predict a 150% growth on the volume of deals to be completed in 2014
Manchester (PRWEB UK) 24 February 2014
Their independent data surveys the whole car finance marketplace and Carfinance247.co.uk has enjoyed the top slot for two consecutive weeks (ending 8th and 15th February consecutively), having 8-10% more visitors** each week that its closest competitor.
Emily Henshall, Marketing Manager at Carfinance247.co.uk says: "With the Finance and Leasing Association reporting a rise in car finance - in 2013*** new car finance volumes grew by 20% and used car finance volumes grew by 16% - we are proud to be the company that consumers turn to first when they need a loan.
"Our loan completions have risen by 125% over the last 12 months, with Vauxhall, Ford, Peugeot and BMW being the most popular models to finance.****
"We have also seen a huge increase of 604% year-on-year on our mobile applications.
"It is fantastic that we have been officially recognised as the UK's number one car finance provider and it vindicates that all the improvements we have put in to enhancing our customer experience, such as our new website and even more loan choices and options, has paid off."
Carfinance247.co.uk predict a 150% growth on the volume of deals to be completed in 2014.
Visit http://www.carfinance247.co.uk for more information.
Ends
*Experian Hitwise provides daily insights on how 8 million UK Internet users interact with more than 1 million websites, across 165+ industries.
*** http://www.fla.org.uk/motor/news/Stronggrowthnewusedcarfinance2013
****http://news.cision.com/carfinance247-co-uk/r/car-finance-specialist-reveals-gender-differences-in-choice-of-used-cars,c9505994
*****http://news.cision.com/carfinance247-co-uk/r/carfinance247-sees-a-604--rise-in-mobile-applications--challenging-independent-research,c9514539
Contact:
Emily Henshall, Marketing Manager, Carfinance247.co.uk, telephone: 0800 019 7180 or email: emily(dot)henshall(at)carfinance247(dot)co(dot)uk
About us:
Founded in 2000, Carfinance247.co.uk is a privately owned business with offices based in central Manchester. We provide vehicle financing solutions for all financial circumstances such as hire purchase, personal contract purchase, contract hire and other leasing options. No deposit is required, and we give you the choice of buying any car from any dealer nationwide.
Address:
The Loading Bay
12-18 Pollard Street
Manchester
M4 7AJ