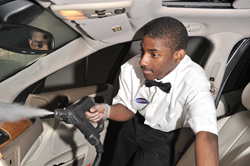 Our [system of] water usage boils down to 1 pint per vehicle and thus, helps save the natural water resource which is so precious and scarce.
Detroit, Michigan (PRWEB) December 02, 2014
Car Franchise DetailXPerts is a local car wash franchise company that is committed to the expansion of its twin advocacies: environmental protection and top-notch automobile care. The company's popularity and growth continue to increase because of its ability to provide effective, sustainable, long-term solutions to the global problem of water shortage.
In the summer of 2013 the city of Detroit filed for bankruptcy, stating that it was $18 billion in debt, the result of "offloading decades of accumulated debt." Then, earlier this year, the city of Detroit found itself in the midst of a major water crisis when the Detroit Water and Sewerage Department (DWSD) began to shut-off the water of city residents in an effort to recoup the $42.1 million in unpaid residential bills.
DetailXPerts Car Franchise, which is based in Detroit, has recognized that the current water crisis is not an environmental or economic problem that is limited to the city of Detroit or even the country of the United States.
Water shortage is a global problem. There are other countries around the globe experiencing similar problems including dwindling water supplies and aquatic pollution. The Middle East is one region deeply affected by water shortages and pollution.
Even in a time of serious fiscal and environmental trials, DetailXPerts Franchise, which is based in Detroit, has still been able to partner with 50 new car wash franchisees both at home in the United States and in the Middle East. The new franchisees in Dubai and Abu Dhabi are especially interested in making their own contribution towards the efforts to conserve the Middle East's clean water resources.
In 2002, DetailXPerts was the first to introduce eco-friendly car cleaning solution in the United States, including a steam car wash, steam cleaning and mobile detailing. While a traditional conveyor car wash uses 40 gallons of water per car, which can use hundreds of gallons of water per cycle, the DetailXPerts system can wash 300 cars using those same 40 gallons.
"Our [system of] water usage boils down to 1 pint per vehicle and thus, helps save the natural water resource which is so precious and scarce," says Angela Williams, president of the DetailXPerts Car Franchise.
For more information, call 877-317-9737, or visit their car franchise website at http://www.detailxpertsfranchise.com/why-car-franchise/
With its Support Center located in Detroit, Michigan, the DetailXPerts Franchise Systems is the world's first eco-friendly vehicle steam cleaning system. Offering a full range of services to people interested in business ownership. DetailXPerts Franchise Systems provides franchise opportunities to people looking for an educational and family environment using a proven business system. With DetailXPerts' patent-pending process, they can clean 15 cars with just 2 gallons of water. The U.S. Government Accountability Office predicts 36 states will have water shortage problems by year 2013 and the Entrepreneur Magazine list onsite "waterless" car washes as a 2009 Trend. DetailXPerts has the answer.
###