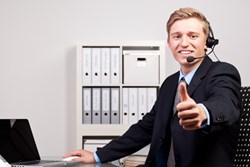 Management will look at the customer reviews to see if there are any patterns, and then take appropriate action. - CarHistory.us.org spokesman
Des Moines, IA (PRWEB) October 11, 2013
CarHistory.us.org is rolling out a new customer service plan allowing customers to review the site and offer suggestions on how to improve service, the company said yesterday.
"The goal of this review is to become the best site in our industry," a CarHistory.us.org spokesman said. "We've done our own internal review, but feel that the best way to find out how we can do better is to hear from our customers."
Customers will get several opportunities to review the CarHistory.us.org experience, he said.
"We'll ask them to complete a survey as soon as they have reviewed their report," he said. "Then we'll send them an email a few days later asking them for a follow up review. And then finally, we'll ask them for a review every time they contact our customer service department."
Management will look at the customer reviews to see if there are any patterns, and then take appropriate action, the CarHistory.us.org spokesman said.
"We believe that after we review the feedback, we'll have a sense of what we are doing right and where we can improve," he said. "That's very good data to have on hand as we continue to serve our customers into the future."
The review process will be an ongoing action, he said.
About CarHistory.us.org:
CarHistory.us.org is an online source for public records and takes pride in providing the most comprehensive vehicle history reports in North America. With hundreds of users daily, motor vehicle report availability and customer service are top priorities for CarHistory.us.org. Visit CarHistory.us.org today to chat with a live representative, call 1-855-482-6465, or email Manager(at)CarHistory(dot)us(dot)org with any questions or concerns.