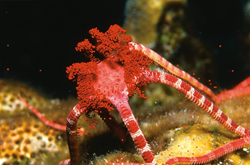 Soufriere. St. Lucia (PRWEB) April 28, 2016
April 2016…// Anse Chastanet, St Lucia, is pleased to announce dates for this year's annual coral spawning: 24th – 26th August. One of nature's most spectacular and rare performances, only a handful of people worldwide see this phenomenon in their lifetime. Guests at Anse Chastanet, St Lucia, are lucky enough to witness this marvel annually as the natural wonder occurs right off the beaches of this characteristic resort.
Each year, Anse Chastanet's scuba diving team, Scuba St Lucia, incredibly and accurately predicts the night spawning and prepares to take novice and experienced divers and snorkelers to observe the remarkable phenomenon which turns the seas yellow and pink with upwards moving "snowfall".
Accompanied at night by Anse Chastanet's skilled in-house scuba staff, divers and snorkelers will be able to witness the mesmerizing fertilization process of both coral and various other reef inhabitants.
What is coral spawning and why is this so rare?
First discovered in the 1980s at Australia's Great Barrier Reef, this annual mass reproduction phenomenon is now known to be critical to coral reef – and our own ecosystem's - survival. Tropical coral reefs, although out of sight, are essential to our world-wide food chains.
Each year, coral release millions of packets of egg and sperm cells that appear as massive underwater clouds of white and pink upward moving "snowfall". After they drift to the surface for fertilization, the sea will be partially covered by the slicks of coral larvae before they settle to the bottom destined to build the next generation of these vital ocean organisms.
While much of the coral spawning process remains a mystery, scientists from all over the world study these miraculous events, and now know that the ideal time for the release of the reproductive cells is a week or so after a full August moon. It happens an hour or two after sunset with the cover of darkness increasing the chances of larvae survival by overwhelming fish predators.
How is Anse Chastanet conserving and preserving this rare phenomenon?
This spawning phase of reproduction is now known to be a weak link to world-wide coral reef survival as it can only happen when conditions are just right; it is the phase most sensitive to human activity, non-point source pollution, and climate change.
As the world's coral reefs are being decimated by the effects of global warming, this unique reproductive process takes on even further significance. Thankfully, Anse Chastanet has made a conscious effort for nearly 20 years to protect the reef from harm due to it exemplary and progressive sustainable designs and architecture; by minimizing impervious surfaces, keeping shorelines green and stable, and completely preventing runoff from entering the water – Anse Chastanet successfully preserves this wonder for future generations.
Watch Anse Chastanet's coral spawning video here. https://www.youtube.com/watch?v=TZQ1KerxYPg
Seven night dive packages at Anse Chastanet for August start at US $2,389 per person on a double occupancy basis where both guests are diving. Rate includes full-board, airport transfers, 12 beach or boat dives, dive equipment and non-motorized water sports. Marine park fee of US €15 is to be paid locally. See more at: http://www.scubastlucia.com
Nightly rates at Anse Chastanet start from $375 per room based on double occupancy. Rates are subject to 10% service charge and 10% VAT http://www.ansechastanet.com
To book or receive more information visit http://www.scubastlucia.com http://www.ansechastanet.com or call 1-800-223-1108 or email scuba(at)ansechastanet(dot)com
– ENDS –
For press information, contact: Martha Morano, Morano Public Relations,
212-860-5566, martha(at)moranopr(dot)com