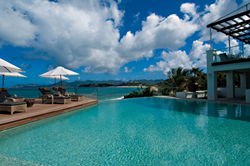 It's never been easier to find the best Caribbean villa deals.
Providenciales, Turks and Caicos Islands (PRWEB) April 10, 2014
CARIBIQUE has always been an innovator in the Caribbean villa rentals market with a very user-friendly website providing advanced yet intuitive search and availability search features where special deals and offers are always highlighted. However, they have now developed this even further and placed all the best Caribbean villa deals and special offers on one page, so that last-minute vacationers and bargain hunters can concentrate their search only on the special deals.
Additionally, CARIBIQUE's villa specials feature also provides advanced filtering technology enabling potential guests to filter all the villa deals by any combination of Caribbean destination, location e.g. beachfront or ocean view, price range, number of bedrooms and any number of features e.g. fully staffed villas or pet-friendly villas. One particularly intelligent and useful feature is that the number of bedrooms filter will even identify a lower occupancy special rate for a larger villa e.g. a special offer 2 bedroom rate in a villa that actually has 5 bedrooms.
"We're always looking for ways to make it easier for potential guests to find the perfect Caribbean villa for their vacation and with our villa specials feature it's never been easier to find the best Caribbean villa deals. We will of course continue to highlight special offers being available in the standard and availability search results too," said Carl McBurnie, owner of CARIBIQUE.
About CARIBIQUE
CARIBIQUE Villa Rentals is owned and operated by CARIBIQUE Ltd., a company in the "Beautiful by Nature" Turks and Caicos Islands. Their user-friendly website offers almost 180 Caribbean villas in 17 of the most popular Caribbean destinations. For more information about listing a villa on the website or booking a Caribbean vacation, contact Carl McBurnie or visit http://www.caribiquevillarentals.com/.
We're not just unique, we're CARIBIQUE!