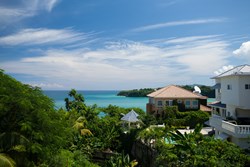 Jamaica villa rentals are usually fully staffed.
Providenciales, Turks and Caicos Islands (PRWEB) October 31, 2013
CARIBIQUE is now able to offer its first Jamaica villa rental on the diverse and fascinating Caribbean island of Jamaica. Their continually growing portfolio now covers more than 180 luxury Caribbean villa rentals in 18 of the most popular Caribbean vacation rental destinations.
The rich cultural experience of Jamaica can be attributed to the Taino, African, Spanish, British, Indian and Chinese inhabitants whose descendants have all influenced the flavours and sounds of the island. The long and fascinating history of Jamaica makes it an interesting place to visit. From Taino artefacts dating from around 4000 BC, to the oldest Cathedral in the Caribbean, to the varied menu which includes Jamaican-Chinese cuisine, there is something fascinating to be learned and experienced at every step. Jamaica is equally suitable for a relaxing beach vacation or for a very active vacation that could include zip-lining in the mountains and kayaking on rapids. The official currency is the Jamaican Dollar, however most businesses will accept US dollars.
Jamaica Ocean View Villa is located in a gated, residential community with its own resident's beach in Rio Nuevo Bay, which is only a short drive from Ocho Rios. The villa is fully staffed with an on-site property manager, chef, housekeeper, butler, and groundskeeper. Groups of 10 or more can be comfortably accommodated in the 5 spacious bedrooms. The master bedroom suite is particularly luxurious and has a double steam shower and oversized Jacuzzi tub. Jamaica Ocean View Villa is competitively priced with rates ranging from $600 to $786 per night for 10 guests.
"We are delighted to be able to offer our first Jamaica villa rental," said Carl McBurnie, owner of CARIBIQUE. "The Jamaica villa rentals market is quite unique within the Caribbean because Jamaica villa rentals are usually fully staffed."
About CARIBIQUE
CARIBIQUE Villa Rentals is owned and operated by CARIBIQUE Ltd., a company in the "Beautiful by Nature" Turks and Caicos Islands. Their user-friendly website offers more than 180 Caribbean villas in 18 Caribbean destinations. For more information about listing a villa on the website or booking a Caribbean vacation, contact Carl McBurnie or visit http://www.caribiquevillarentals.com/
We're not just unique, we're CARIBIQUE!