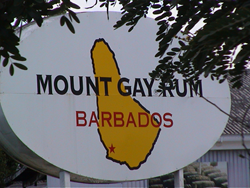 My own personal appreciation for rum began in 2004 when I toured Mount Gay in Barbados.
Providenciales, Turks and Caicos Islands (PRWEB) February 27, 2014
With Barbados claiming to be the birthplace of rum, it has become a popular first stop for visitors on a mission to learn about the distilling process first-hand from master blenders who have been growing and fermenting sugar cane on the island for over 300 years.
Established brands like Mount Gay are enjoying a resurgence amongst thirsty Caribbean trend-setters, as the company is currently seeing growth of 8 to 9 percent per year internationally.
"My own personal appreciation for rum began in 2004 when I toured Mount Gay in Barbados," explains McBurnie. "Learning about rum is truly a wonderful way to experience Caribbean culture so it's not surprising that more and more people are attending tours and cultural events that celebrate rum."
From 20 to 25 November, the 2014 Barbados Food, Wine & Rum Festival will be hosting rum cocktail seminars, wine tastings and cooking demos from top international chefs. Visitors can also sample authentic Caribbean rum punch and attend a Mount Gay rum tour.
Rum is a part of everyday life in Barbados and with over 1,500 rum shops within 155 miles on the island, locals and visitors alike congregate to relax, gossip with neighbours, play games, eat and drink.
"Rum is the heart of many Caribbean communities," adds McBurnie. "It contributes millions to the economy and is now becoming an even greater attraction for people wanting to visit the islands. I anticipate that the trend towards rum-based tourism will continue well into 2015 and beyond."
(1) " On a Caribbean Rum Trail" New York Times, 21st February 2014
About CARIBIQUE
CARIBIQUE Villa Rentals is owned and operated by CARIBIQUE Ltd., a company in the "Beautiful by Nature" Turks and Caicos Islands. Their user-friendly website offers almost 180 Caribbean villas in 17 popular Caribbean destinations. For more information about listing a villa on the website or booking a Caribbean vacation, contact Carl McBurnie or visit http://www.caribiquevillarentals.com/.
"We're not just unique, we're CARIBIQUE!"