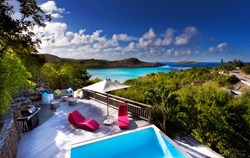 St. Barts has a large number of luxury villas, particularly when you consider that it is such a tiny island.
Providenciales, Turks and Caicos Islands (PRWEB) August 30, 2013
CARIBIQUE is now able to offer six St Barts luxury villa rentals in the French Overseas Collectivity of Saint Barthélemy, most commonly referred to as simply St Barts or St Barths, in the Eastern Caribbean. St Barts has long been considered a playground of the rich and famous and is known for its beautiful pristine beaches, gourmet dining in chic restaurants and high-end designer shopping. It is actually part of the European Union and the official currency is the euro. However, prices are frequently quoted in US dollars and they are also widely accepted.
The new additions to CARIBIQUE's continually growing portfolio of Caribbean luxury villa rentals range in size from 2 bedrooms to 6 bedrooms and in price from $650 per night in the low season to $8,000 per night in the peak season. Two of the St. Barts luxury vacation homes are located in the Northwest of the island in the popular Flamands Bay (Baie des Flamands) area with relatively easy access to the capital Gustavia, its fine dining and high-end shopping. Four of the villas are located within the exclusive Levant Estate in Petit Cul de Sac on the Northeast Coast of the island with access to a private beach and views of the turquoise lagoon. Some of the villas in the Levant Estate can be combined to form estates within the estate, providing very flexible options for extended families or larger groups of friends.
"The St. Barts luxury villa rentals market is an important market for our overall expansion plans," said Carl McBurnie, owner of CARIBIQUE. "St. Barts has a large number of luxury villas, particularly when you consider that it is such a tiny island, and as a destination it attracts the high-end of the Caribbean market."
About CARIBIQUE
CARIBIQUE Villa Rentals is owned and operated by CARIBIQUE Ltd., a company in the "Beautiful by Nature" Turks and Caicos Islands. Their user-friendly website offers more than 170 Caribbean villas in 17 Caribbean destinations. For more information about listing a villa on the website or booking a Caribbean vacation, contact Carl McBurnie or visit http://www.caribiquevillarentals.com/.
We're not just unique, we're CARIBIQUE!