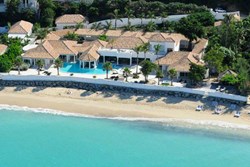 With the Dutch and French side guests have the opportunity to experience two destinations in one vacation.
Providenciales, Turks and Caicos Islands (PRWEB) September 30, 2013
CARIBIQUE is now able to offer 71 Saint Martin villa rentals on the island in the Eastern Caribbean with 67 of the villas in the French part, Saint Martin, and 4 Sint Maarten villa rentals in the Dutch part of the island, Sint Maarten. The two parts of the island are separate entities under the umbrella of France and The Netherlands. On the Dutch side the currency is the Netherlands Antillean Guilder, while on the French side the Euro is the official currency, however, both nations widely accept US dollars. English is widely spoken and is an official language along with French and Dutch.
The new additions to CARIBIQUE's continually growing portfolio of Caribbean luxury villa rentals range in size from 1 bedroom to 9 bedrooms, and in price from less than $350 per night in the low season to more than $18,000 per night in the peak season. The majority of the vacation homes are in the prestigious Terres-Basses (The Lowlands) community of St. Martin with luxury beach houses on Baie Longue (Long Bay), Baie aux Prunes (Plum Bay) and Baie Rouge (Red Bay) beaches or hillside villas with views of the Caribbean Sea. There are also villas overlooking the Simpson Bay Lagoon, Anse aux Cajoux, Happy Bay, and Petite Plage near Grand Case, often referred to as the gourmet capital of the Caribbean. On the Dutch side all of the villas are located in the prestigious Shore Pointe Villas community on Cupecoy Beach.
"The St. Martin villa rentals market is a very important market for our overall expansion plans," said Carl McBurnie, owner of CARIBIQUE. "St. Martin has a large number of luxury villas, and with the Dutch and French side guests have the opportunity to experience two destinations in one vacation."
About CARIBIQUE
CARIBIQUE Villa Rentals is owned and operated by CARIBIQUE Ltd., a company in the "Beautiful by Nature" Turks and Caicos Islands. Their user-friendly website offers 180 Caribbean villas in 17 Caribbean destinations. For more information about listing a villa on the website or booking a Caribbean vacation, contact Carl McBurnie or visit http://www.caribiquevillarentals.com/.
We're not just unique, we're CARIBIQUE!