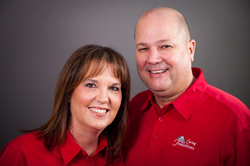 We focused on providing excellent customer service from day one, which helped us start strong and gave our team some great experience in our first year ... (we) believe that our attention to detail and care for our employees and customers set us apart from the competition. - Craig Edwards
ROCKWALL, Texas (PRWEB) March 14, 2019
Caring Transitions is pleased to announce that Craig and Amy Edwards, the local owners of Caring Transitions of Rockwall, have earned the Caring Transitions' Rising Star Award. This national recognition is given to a new franchisee who has demonstrated strong leadership and business growth in their first year of operation. The Rising Star Award was presented on February 19, 2019, at the Caring Transitions national conference.
"Craig and Amy laid the foundation for the future of their business by setting the highest possible standard for customer service and building on the already strong Caring Transitions brand in their market. They are leaders not only in their community, but also among our franchisees, and we were pleased to be able to recognize them with a Rising Star Award this year. We can't wait to see what the future holds for this great team," Caring Transitions President Ray Fabik said.
Caring Transitions' specially-trained team can handle organizing, packing, de-cluttering, moving, resettling, in-person and online estate sales, liquidations, clean-outs, and preparing homes for market. Caring Transitions specializes in managing senior relocations, but the services are also perfect for busy families and individuals in need of assistance. The Edwards' local franchise serves Rockwall, Rowlett, Heath, Sachse, Wylie and the surrounding communities.
"We focused on providing excellent customer service from day one, which helped us start strong and gave our team some great experience in our first year. Caring Transitions already had a great brand in the DFW area thanks to other franchisees like Donna Rea and Rex Norris, and that helped tremendously, and the corporate franchise team played a big role in coaching us down the right path," Craig said. "It felt good to be honored among peers after working as hard as we could all year to build the business."
Craig and Amy are both from Texas – Craig grew up in Garland before moving to Rowlett almost 25 years ago. Amy grew up in the Dallas area and graduated from the University of Texas. Amy worked as an elementary school teacher and later stayed home to raise the couple's four kids. All of them went to school and played youth sports in Rowlett. Craig has built his career in the wholesale food business. They opened their Caring Transitions franchise in March of 2018.
Caring Transitions' services are perfect for seniors moving in with family or into a safer living situation, as well as busy families and people clearing out the home of a loved one who has passed. All of Caring Transitions' services are customizable, so clients only pay for the services they need – whether that means managing the entire move and estate-clearing or just getting someone resettled into their new place.
"I believe that our attention to detail and care for our employees and customers set us apart from the competition. Caring Transitions already has a great reputation in the DFW area, but we want to continue to improve," Craig said. "As we look to the future, we want to continue to grow our business and our team. We have an aggressive budget for 2019, but we are right on track so far."
Caring Transitions is bonded, insured and their W2 employees have been background checked. For additional information, call (972)846-4839, email CEdwards@CaringTransitions.com or visit http://www.CaringTransitionsRockwall.com.
About Caring Transitions
Caring Transitions, founded in 2006, is the first national franchising concept specializing in senior relocation and transition services. With more than 200 locations throughout the United States all owned and operated by Certified Relocation and Transition Specialists, Caring Transitions provides clients with supportive moves, auctions, rightsizing and transitions. This includes expert advice plus a well-executed transition plan beginning with the initial sorting of personal belongings through packing, shipping and selling of items to the final clearing and cleaning of the property. For more information, visit http://www.caringtransitions.com or visit us on Facebook.