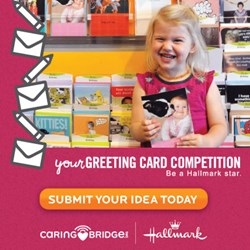 Eagan, MN (PRWEB) October 28, 2013
Every day, people in need lean on the caregivers who tirelessly help them through tough times. To celebrate and support these personal heroes during National Family Caregiver Month, CaringBridge and Hallmark Cards, Inc. are kicking off the "Caring Messages" card contest.
Participants can draw on personal experiences to write a message of love and support for a caregiver or for the person in their care. Messages can vary in tone and style from sweet to funny, straightforward to inspirational, but they should be compassionate, supportive, sincere and authentic.
"People express their love and support for one another in big and small ways every day," said Sona Mehring, found and CEO of CaringBridge. "This Hallmark card contest provides people with a unique way to honor and show their admiration for the caregivers that have helped them so much."
The "Caring Messages" card contest is the most recent theme to be offered in Hallmark's successful consumer co-creation program, and the first initiative arising from the collaboration CaringBridge and Hallmark announced earlier this month.
Entries are accepted at http://www.hallmarkcontests.com. Entrants can submit one card idea in each of the following categories:
1) Support and Encouragement
2) Compliments and Appreciation
3) Words from the Wise
A panel of judges, made up of CaringBridge and Hallmark staff members, will review the final submissions and choose a group of winners. Entries will be judged based on whether they stick to the theme as well as on sensibility and cohesiveness.
Once selected, the winning entries will be sold at Hallmark.com with in-store sale to be determined. These will be the first Hallmark + CaringBridge branded cards in production. Participants receive cash awards for winning the contest.
The contest opens Oct. 28 with entries accepted until Nov. 17. The announcement and sale of winning cards is set for February 2014.
The week of Thanksgiving was established as National Family Caregivers Week by Presidential proclamation in 1997, at the urging of the National Family Caregivers Association. Every president since then has followed suit, issuing a proclamation appreciating family caregivers. As interest in family caregiving issues has grown, the observance has extended to the entire month of November.
About Hallmark Cards, Inc.
Hallmark makes the world a more caring place by helping people express what's in their hearts and spend time together - a privilege few other companies in the world enjoy. Hallmark greeting cards and other products are found in more than 39,000 retail outlets in the United States, including the network of flagship Hallmark Gold Crown® stores. The brand also reaches people online at Hallmark.com and on television through Hallmark Hall of Fame original movies and cable's top-rated Hallmark Channel. Worldwide, Hallmark offers products in more than 30 languages available in 100 countries. This privately held company is based in Kansas City, Mo., and is led by the third generation of the founding Hall family.
About CaringBridge
CaringBridge is a nonprofit organization offering many ways for people to care for each other during any type of health event. Its mission is to amplify the love, hope and compassion in the world, making each health journey easier.