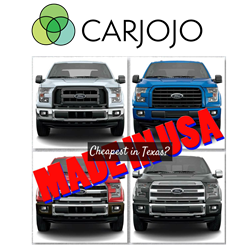 Campbell, CA (PRWEB) July 06, 2016
Recently, American University released the 2016 Kogod Made in America index showing just how "American" a Ford, Chevy, or even the surprisingly home-grown Honda Accord really is. Carjojo analyzed new automobile inventory across the US to determine which states were likely the best places to get a great deal on these "most American" vehicles.
Analysts queried the Carjojo database of all new vehicles for sale in the US to answer three questions for each of Kogod's top "most American" cars and trucks:

Which state has the highest inventory on dealer lots? Buyers looking for the largest selection of vehicles should check this list.
Which state has the most inventory per resident? If a buyer wants to negotiate the best deal, here is where to find the largest number of vehicles compared to the number of potential shoppers — a "supply imbalance" favors buyers.
Which state has the most discounted vehicles as a percentage of total inventory (a "discounted" automobile is one for which the dealer-advertised price is below the list price)? If a buyer wants to purchase a vehicle at a sale price, this list is where to look.
1. Most Inventory
Here are states with the highest number of "Most-American" vehicles in inventory, and how many of these individual vehicles are on dealer lots per state.
Vehicle, State, Inventory
Buick Enclave, TX, 1,255
Buick LaCrosse, MI, 913
Buick Verano, TX, 1,031
Cadillac Escalade, TX, 982
Chevrolet Camaro, TX, 2,810
Chevrolet Colorado, CA, 1,591
Chevrolet Cruze Limited, TX, 408
Chevrolet Equinox, MI, 3,722
Chevrolet Impala, TX, 799
Chevrolet Malibu, TX, 3,605
Chevrolet Tahoe, TX, 4,352
Chevrolet Traverse, TX, 1,639
Ford Explorer, TX, 3,305
Ford F-150, TX, 21,607
Ford Taurus, MI, 477
GMC Acadia, TX, 983
GMC Canyon, TX, 973
GMC Yukon, TX, 2,256
Jeep Wrangler Unlimited, TX, 2,561
Not surprisingly, Texas leads the list as the state with the largest inventory for 15 of the 19 vehicles shown, with California and Michigan rounding out the list. For sheer American-car selection, those three states can't be topped.
2. Most Inventory Per Resident
Which states have the most American-car inventory per capita? Here is where a buyer is more likely to end up with the best deal.
Vehicle, State, Inventory Per Capita
Buick Enclave, ND, 8
Buick LaCrosse, MI, 9
Buick Verano, NM, 16
Cadillac Escalade, TX, 4
Chevrolet Camaro, LA, 11
Chevrolet Colorado, ND, 8
Chevrolet Cruze Limited, AR, 4
Chevrolet Equinox, MI, 38
Chevrolet Impala, NE, 7
Chevrolet Malibu, MI, 28
Chevrolet Malibu Limited, LA : 2
Chevrolet Tahoe, TX, 16
Chevrolet Traverse, MI, 14
Ford Explorer, NJ, 14
Ford F-150, NE, 114
Ford Taurus, MI, 5
GMC Acadia, MI, 6
GMC Canyon, AR, 7
GMC Yukon, AR, 23
Jeep Wrangler Unlimited, CO, 14
Michigan leads this list, having the highest inventory for 6 of the top 20 vehicles. But notice that Nebraska is the leading state for the Chevrolet Impala and Ford F-150—so if a shopper wants to buy the Ford F-150, which is the most popular vehicle in the country, Nebraska is likely the best place to go. Another inventory-heavy state is Michigan for the Chevy Equinox and Malibu, and Arizona for the GMC Yukon.
3. Most Vehicles Discounted
Finally, which states have the highest concentration of discounted vehicles? In other words, in which state is the number of discounted vehicles highest compared to the total number of available vehicles. In these states a buyer is most likely to see a discounted price without having to negotiate.
Vehicle, State, Percent Discounted
Buick Enclave, CT, 35.4%
Buick LaCrosse , AZ, 41.0%
Buick Verano, CO, 28.0%
Cadillac Escalade, GA, 74.0%
Chevrolet Camaro, CT, 53.3%
Chevrolet Colorado, MD, 25.8%
Chevrolet Cruze Limited, IL, 24.9%
Chevrolet Equinox, NJ, 33.2%
Chevrolet Impala, MO, 26.5%
Chevrolet Malibu, CT, 36.1%
Chevrolet Malibu Limited, NC, 24.4%
Chevrolet Tahoe, CT, 29.6%
Chevrolet Traverse, NJ, 21.9%
Ford Explorer, AL, 21.4%
Ford F-150, CO, 17.4%
Ford Taurus, TX, 8.4%
GMC Acadia, TX, 18.9%
GMC Canyon, FL, 23.7%
GMC Yukon, IL, 42.3%
Jeep Wrangler Unlimited, IN, 51.8%
74% of Cadillac Escalades in Georgia are for sale at a discount at this time, as are large numbers of the Chevrolet Camaro in Connecticut and the Buick LaCrosse in Arizona.
Conclusion
Carjojo isn't suggesting that shoppers rush to a particular state to buy a particular vehicle. But if a buyer's heart is set on buying an American-made car, and the buyer happens to live in one of the states on these lists, there may be a great deal to be had.
Notes:
Data is from May/June 2016.
State data includes at least 25 vehicles.
State population based on U.S. Census estimates.