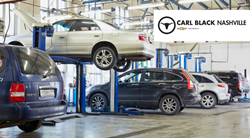 NASHVILLE, Tenn. (PRWEB) May 29, 2019
Carl Black Nashville offers affordable vehicle maintenance and service deals in Nashville. Local residents who find their vehicles in need of summer maintenance are encouraged to contact the dealership. No matter how well taken care of, there comes a point in a vehicles life where it simply needs to go into the shop. This local dealership has a variety of vehicle services available including maintenance to keep vehicles in the best condition possible. From something as easy as an oil change to more complicated procedures, the efficient team at Carl Black Nashville is ready to tackle any maintenance issue.
Now, shoppers can enjoy a great price to go along with the quality work. Find a variety of coupons on the Carl Black Nashville website. These coupons include items such as deals on tire rotations, brake repair, battery replacement and 50 to 60 dollars off an oil change. However, these deals will not last long, so any shopper interested in utilizing these service coupons are encouraged to contact the dealership soon.
It is important to take care of any vehicle issues that crop up as soon as possible. This ensures that the problem doesn't worsen over time and cost even more to fix. At the very least drivers should ensure their vehicle has its oil changed and tires rotated on a regular basis. Thankfully it is easy to schedule vehicle services with Carl Black Nashville right on its website at http://www.carlblackchevy.com. The dealership's service department can also be reached by calling 888-498-9760.