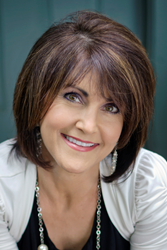 I'm very excited that soon more readers will be able to share in our ministry and find a closer relationship with our Lord.
Houston, Texas (PRWEB) March 31, 2014
Carla McDougal, the author of My Prayer Chair, has announced that the book will soon be available in Spanish. The book, which was awarded both the 2013 USA Best Book Award in the Prayer & Devotional category and a silver medal in the 2013 Readers' Favorite Book Awards, encourages the reader to engage in ongoing conversations with God – seven days a week, twenty-four hours a day.
Carla McDougal, whose Reflective Life Ministries works to transform lives by sharing the truth and message of Jesus Christ, is glad that her book will reach greater audiences. She says, "I've always been conscious of the fact that Christians who don't read in English couldn't share in the discoveries I've made in my relationship to the Lord. But now, the book can be employed by a whole new population of Christians." Through My Prayer Chair, she has endeavored to guide readers into constant communication with their Lord.
The purpose of Reflective Life Ministries is to transform one's life into a reflection of Christ. In addition to writing, McDougal also speaks at events and encourages women in ministry. She sees the translation of My Prayer Chair as an opportunity to reach out to Spanish-speaking women.
McDougal concluded, "I'm very excited that soon more readers will be able to share in our ministry and find a closer relationship with our Lord."
Carla McDougal
Carla McDougal is the founder of Reflective Life Ministries in the Houston area, as well as an author and a speaker. Her true passion is her Lord and Savior, Jesus Christ. It humbles her to realize that His love, grace, and mercy go beyond her understanding. She truly believes laughter is medicine from the Lord that breaks down walls and removes the masks in our lives. As a result, God has taken her around the world to encourage others to live every day for Him. RLM's newest venture involved the production of a second movie. Carla explains, "Reaching audiences through high-quality, Christ-centered films offers powerful avenues to affect the Kingdom of God." Carla and her husband, Fred, live in the Houston area and have three sons, one daughter, and two daughters-in-law. She smiles to think of the experiences God has allowed in her life to teach and remind her "He is in control."