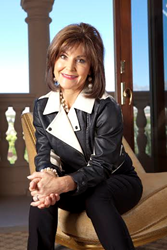 "The Hilltop Lakes Women's Retreat is a prime opportunity to help other women strengthen their relationship to the Lord, and I'm honored to be speaking there this year."
Houston, TX (PRWEB) May 16, 2014
Hilltop Lakes Church's annual women's retreat will take place this week, with special guest speaker Carla McDougal. Ms. McDougal is the award-winning author of My Prayer Chair, published by Next Century Publishing, and the founder of Reflective Life Ministries. Like the Hilltop Lakes Church's women's retreat, Reflective Life Ministries was founded to connect women by sharing the message of Jesus Christ.
This year's retreat is themed "Denim and Diamonds: Deep in the Heart of Jesus." It uses the song, "San Antonio Rose," to gauge the interest of prospective attendees: does the song illicit a smile and tapping foot? If it does, that's a good start. This retreat, which will be full of Western flair as well as discussions about God, promises laughter, memories, tears, and even "sparkles." Of course it also includes Ms. McDougal who, among other things, teaches that prayer shouldn't just be employed in times of need. She encourages all God's children to enter into a constant conversation with the Lord, so that it becomes habitual, and doesn't just occur when a person has struggles or worries. "Prayer can absolutely be worked into your everyday life, during chores or just before bed, and the frequency will strengthen your relationship to Jesus," McDougal states.
Participants in the retreat will discuss what it means to live a life of devotion, and how God can love humanity despite its imperfections. In addition to Carla McDougal's speech, there will be fun activities, skits, and in depth scripture lessons so participants can grow, learn, and enjoy their time with one another. Session topics include: A Diamond in the Rough, Created to Glisten, and Maintaining the Sparkle.
Like McDougal's Reflective Life Ministries, the aim of "Denim and Diamonds" is for women's hearts to deepen in love for the Lord and each other. "The Hilltop Lakes Women's Retreat is a prime opportunity to help other women strengthen their relationship to the Lord, and I'm honored to be speaking there this year."
Carla McDougal
Award-winning author and speaker, Carla McDougal founded Reflective Life Ministries in 2008. Her true passion is her Lord and Savior, Jesus Christ. It humbles her to realize His love, grace, and mercy go beyond her understanding. She truly believes laughter is medicine from the Lord that breaks down walls and removes the masks in our lives. As a result, God has taken her around the world to encourage others to live every day for Him. Her latest book, My Prayer Chair, won multiple awards in 2013 and is now available in Spanish. Carla and her husband, Fred, live in the Houston, TX area and have three sons, one daughter, and two daughters-in-"love." She smiles to think of the experiences God has allowed in her life to teach and remind her "He is in control."