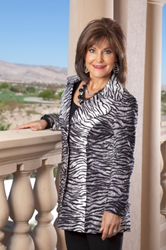 Prayer is a life-absorbing relationship with God.
Houston, TX (PRWEB) July 09, 2014
Carla McDougal, founder and speaker for Reflective Life Ministries, is the author of the award-winning book, My Prayer Chair and the 10 week Bible study, Reflecting Him: Living for Jesus and Loving It. She will be speaking July 12 at the Women's Summer Outreach Luncheon at Jersey Village Baptist Church. About 300 women will gather to hear her insights, humorous stories, and wisdom concerning a fulfilled walk with the Lord. The church's biggest women's event for the summer focuses on mission efforts, and school supplies and other items will be collected for Post Elementary and Cypress Assistance Ministries.
Carla uses humor, personal anecdotes, and scriptures in her books and speaking engagements, and she has touched many lives with the simplicity and honesty of her faith. Last month she used My Prayer Chair as the focus for a series of seminars in Guatemala for wives of pastors and women who are entering the ministry. She founded Reflective Life Ministries to reach out to women to tell them what it means to have an abundant prayer life and strong faith.
Saturday's luncheon is from 10:45 a.m. to 1:00 p.m. at the JVBC Chapel. Tickets are $12 and childcare will be available. More details can be found at http://www.jvbc.org/.
About Carla McDougal:
Award-winning author and speaker, Carla McDougal founded Reflective Life Ministries in 2008. Her true passion is her Lord and Savior, Jesus Christ. It humbles her to realize His love, grace, and mercy go beyond her understanding. She truly believes laughter is medicine from the Lord that breaks down walls and removes the masks in our lives. As a result, God has taken her around the world to encourage others to live every day for Him. Her latest book, My Prayer Chair, won multiple awards in 2013 and is now available in Spanish. Carla and her husband, Fred, live in the Houston, TX area and have three sons, one daughter, and two daughters-in-"love." She smiles to think of the experiences God has allowed in her life to teach and remind her "He is in control."