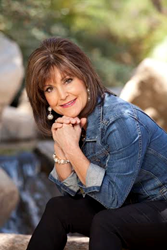 God calls us to pray for each other, lift one another up in prayer, and to cry out in pray for the needs of others.
(PRWEB) June 06, 2014
Carla McDougal's My Prayer Chair is a touching look at the author's remembrance of her grandmother's active prayer life, which she uses as the basis for helping others grow in their own prayer journey. The Spanish version of this book has just been released, and Carla is using this opportunity to spread her message about the importance of prayer to Spanish-speaking people groups.
Carla is the founder of Reflective Life Ministries and works with people of various ethnic groups and languages through her ministry. In June 2014, Carla will travel to Guatemala to take part in two back-to-back women's retreats to be held at the Seminario Teológico Centroamericano or SETECA, an organization that is dedicated to providing theological training for all.
The retreats will take place June 11th to 17th and involve a total of 75 women from 15 different nations. The first retreat is for the wives of men who are studying in seminaries for theological degrees. The second is designed for single women who are working on theological degrees.
Reflective Life Ministries has partnered with other organizations and individuals to completely fund the retreat so that these women will have a chance to learn and grow, taking their new found knowledge back to their home countries. Carla sees this work as a blessing that affects the whole family and allows them to grow together in their spiritual development. Reflective Life Ministries will provide complete funding so that these women can enjoy their time together and learn something valuable while they attend the retreats.
Carla McDougal
Award-winning author and speaker, Carla McDougal founded Reflective Life Ministries in 2008. Her true passion is her Lord and Savior, Jesus Christ. It humbles her to realize His love, grace, and mercy go beyond her understanding. She truly believes laughter is medicine from the Lord that breaks down walls and removes the masks in our lives. As a result, God has taken her around the world to encourage others to live every day for Him. Her latest book, My Prayer Chair, won multiple awards in 2013 and is now available in Spanish. Carla and her husband, Fred, live in the Houston, TX area and have three sons, one daughter, and two daughters-in-"love." She smiles to think of the experiences God has allowed in her life to teach and remind her "He is in control."