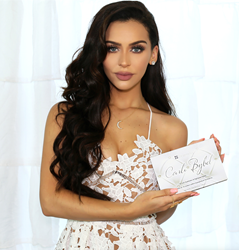 "BH Cosmetics is one of the first brands I used when I started freelancing seven years ago," says Bybel. "They have high-quality products for a price anyone can afford, which is why I'm so excited to launch my signature palette with them!"
Los Angeles, CA (PRWEB) August 26, 2015
BH Cosmetics, a beauty industry leader and creator of professional-quality makeup products, today announced that it is partnering with beauty expert and YouTube sensation Carli Bybel to create a signature makeup palette. Known for her influential YouTube channel and blog The Beauty Bybel, Carli has millions of social media subscribers and followers.
"BH Cosmetics is one of the first brands I used when I started freelancing seven years ago," says Bybel. "They have high-quality products for a price anyone can afford, which is why I'm so excited to launch my signature palette with them!"
For her signature palette Bybel is dialing up the drama with a collection of 10 eyeshadows in earthy neutrals and plummy browns, plus four luminescent face highlighters to complement every skin tone. The mix of matte, satin, and shimmer finishes makes it easy to go from amped-up evening intensity to toned-down daytime neutral.
"We're so excited to collaborate with Carli," says Director of Product Development Reed Cromwell IV. "Her social media channels influence millions, and this collection will allow fans to express their individuality while staying true to Carli's taste for chic refinement and modern elegance."
The Carli Bybel 14 Color Eyeshadow & Highlighter Palette will be available in fall 2015 and can be purchased at http://www.bhcosmetics.com.
About BH Cosmetics
BH Cosmetics creates high-quality, affordable cosmetics, makeup brushes and accessories. Known for delivering high-quality cosmetics at affordable price points, the company's product line has garnered extensive praise on YouTube and other social media networks. BH Cosmetics was previously recognized on Inc. Magazine's Inc. 500 list as one of the country's fastest-growing private companies. For more information, visit http://www.bhcosmetics.com.
About Carli Bybel
Beauty guru Carli Bybel began her career as a freelance makeup artist, and broke into the vlogging world in 2011 with her instantly-popular makeup tutorials. She continues to connect with her millions of followers via her primary YouTube channel The Beauty Bybel, as well as on her blog and a secondary channel, The Inner Beauty Bybel, focused on advice and self-improvement.