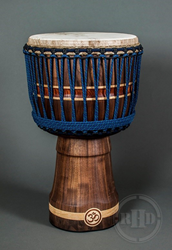 We value our clients immensely, take a personal interest in understanding their business and celebrate their successes
Indian Trail, NC (PRWEB) May 27, 2014
Carlini CPA, PLLC value their customers and takes interest in understanding their business and celebrating the successes of the business. Carlini CPA would like to recognize one of their clients in particular, Rhythm House Drums (RHD). Kevin Brown, a small town craftsman with a global reach, builds custom hand drums for a range of customer and cultures worldwide.
Founded in 2009, Rhythm House Drums (RHD) http://www.rhythmhousedrums.com has set the standard for custom hand drums. Doing what has not been done before, RHD has brought a traditional instrument to light in a new way offering customization, quality, and beauty while staying true to the tradition.
Kevin Brown is a resident of a small town just outside of Charlotte, NC. By day he is a fabricator at Boxman Studios http://www.boxmanstudios.com, putting the final touches and detail on decommissioned shipping containers that have been transformed into mobile hospitality environments. By night, and on weekends, Kevin repairs, designs, and builds custom hand drums with a passion that has rewarded him with a global audience.
Focusing mainly on the djembe drum http://en.wikipedia.org/wiki/Djembe and other West African drums, Kevin has built a niche company from the ground up. Rhythm House Drums specializes in putting a modern spin on the djembe while staying true to the sound, history, and culture from which it originated. His innovative design of this traditional drum makes for a beautiful work of functional art. Using slats of local and sustainable hardwoods for the body of the drum, Brown then customizes every detail to a client's specific needs. The end result is a one-of-a-kind instrument. Aside from designing and building them, Brown also supports the communities where djembes originated by importing and selling from a small group of traditional drum crafters in Bamako, Mali.
In this video, http://www.youtube.com/watch?v=Ag8pg4fvg4c Kevin shows the construction and passion that goes into building, and playing, a custom hand drum. His passion for drumming is as evident in his outlook on life, as it is in the drums he creates. "I believe that music is a universal code, one that transcends language and communicates directly with our soul. " Brown states. "Rhythm is the foundation of energy. From the rhythm in our heartbeat, to the rhythm of our daily grind, rhythm is a core part of being. This kind of awareness is what drives me to continue innovating with drums."
Rhythm House Drums:
Web: http://www.rhythmhousedrums.com
Blog: http://www.rhythmhousedrums.com/blog/
E-mail: info(at)rhythmhousedrums(dot)com
Phone: 704-685-1952
Carlini CPA, PLLC is a CPA firm located in the Charlotte region that provides Audit, Bookkeeping, Tax, QuickBooks and Business Consulting Services. Mr. Jeffrey Carlini, CPA, CFE states, "We value our clients immensely, take a personal interest in understanding their business and celebrate their successes". Visit their website at http://www.carlinicpa.com.
Media Contact
Jeffrey M. Carlini
704-604-2101
jeff(at)carlinicpa(dot)com