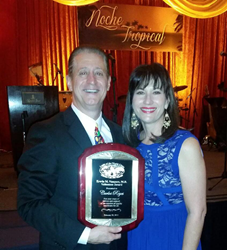 I am honored to be a part of the Light of the World Clinic and help support and continue Dr. Vazquez' dream."
Plantation, FL (PRWEB) February 28, 2015
On February 20, 2015 at the Clinic's Annual Gala - Noche Tropical, the Signature Grand was filled with more than 400 guests celebrating the 26th anniversary of the Light of the World Clinic, founded by the late Dr. Erwin Vasquez in July of 1989. The free healthcare clinic, based in Oakland Park, Florida has provided more than a quarter of a million qualified, uninsured and low-income residents free medical care and medicines by more than 50 medical providers in 15 different specialty areas.
Carlos J. Reyes and his wife Nancy, co-chaired the event along with Linda and Joe Stepenovitch. Thirty physicians who regularly donate their time and expertise to those in need in Broward County were recognized for their selfless contributions. Mr. Reyes, who has been involved with Light of the World Clinic for over 20-years, received special recognition for his dedication and commitment to helping continue the mission Dr. Vasquez started and keeping his legacy alive.
Throughout his career, driven by his motto, "leave people better off than when you find them," Carlos has given back to his community as a way of making a difference in the lives of others. "I am honored to be a part of Light of the World Clinic," said Mr. Reyes. "I am honored to help Elaine Vasquez, wife of the founder and my dear friend, Dr. Erwin Vasquez, as we continue to work on and build Dr. V's dream of competent medical care for the less fortunate."
Carlos J. Reyes is the son of Cuban immigrants and was born in Miami, Florida. He is a family man celebrating 31 years of marriage, and the proud father of three children, one granddaughter and one grandson on the way. His story is very similar to that of many Cuban immigrants who came to this country in the 1950's wanting a better life for their children. His strong work ethic comes from parents who had nothing when they arrived, but built a business through hard work and an attitude of never giving up. Carlos applies that same strong work ethic to his law practice. He represents his clients in a thoughtful and meaningful way while representing their legal needs with strong conviction.