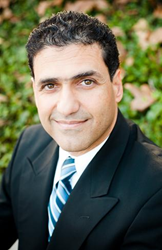 It's truly humbling. We have a phenomenal team and it shows; I'm really proud of what we've accomplished together. -- Mehran Aram
CARLSBAD, CA (PRWEB) July 01, 2014
The ARAMCO Group, based in Carlsbad, was ranked amongst the top 50 Home Equity Conversion Mortgage (HECM) by volume companies for the April 2013-2014 year in the latest Reverse Market Insight (RMI) rankings released last week. "For a small family business like ARAMCO, our goals have always been simple, provide the highest level of customer service and maintain our customer base for life," said Mehran Aram, president and founder of the top-ranking company. "When we started our reverse mortgage division, ARAMCO Financial, we set out to help our community by being the number one trusted source for the reverse mortgage in San Diego. After accomplishing that earlier this year, and now being listed amongst the top 50 reverse mortgage lenders nationwide, it's truly humbling. We have a phenomenal team and it shows; I'm really proud of what we've accomplished together," Aram concluded.
The New Reverse Mortgage (or HECM) is an extremely helpful financial tool for seniors 62 and older, allowing them to tap into the equity of their home to fund their retirement. These mortgages are popular for a variety of reasons including the allowance of seniors to age in place in their homes, help to cover medical expenses, and improve cash flow. Of course there are many more benefits; one version of the HECM even allowing the borrower to purchase a home using a reverse mortgage.
The ranking conducted by RMI, a provider of data analysis and portfolio valuation services for the reverse mortgage industry, evaluates various components of Reverse Mortgage originators and the reverse mortgage marketplace across the nation. Some of these criteria include rankings by wholesale and retail performance, retail by unit growth, retail and wholesale volume, top ranking HECM volume by Channel-Endorsements last year.
For more information on The ARAMCO Group, reverse mortgages, HECM, and more, visit http://www.ARAMCO.biz or call 1-888-600-1130.
###
The ARAMCO Group specializes in providing a broad range of mortgage services and options for home buyers and those seeking to refinance their existing home loans. The company focuses on providing exemplary customer service while emphasizing rapid loan processing with clear and timely communication throughout the process. For more information, visit http://www.ARAMCO.biz or call (888) 600-1130.
Mehran Aram is the President and CEO of The Aramco Group with over 20 years experience in the mortgage/real estate industries. A graduate of USD School of Business, he has made a name for himself by writing and producing The ARAMCO Report, his one minute daily radio/tv analysis of the mortgage and real estate markets. The ARAMCO Report is now syndicated across the Radio America Network (heard in more than 100 markets daily) and is featured following every weekday San Diego Padres game on FOX Sports SD. Mehran is a weekly contributor on the nationally syndicated, Roger Hedgecock Show and is also featured on Mark Larson and George Chamberlin's radio shows. More recently he became one of less than 100 Certified Reverse Mortgage Professionals (CRMP) in the nation and hosts monthly workshops to educate seniors on retirement and the reverse mortgage.