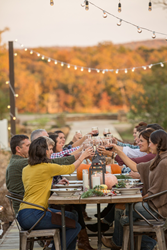 Carlton Landing, Okla (PRWEB) September 01, 2016
To cap off a summer of record-breaking real estate sales, Carlton Landing is celebrating Labor Day Weekend with food, entertainment and fun for the whole family. Residents and the public alike are invited to enjoy the following:
FRIDAY, SEPTEMBER 2
10:00 to 11:00 am: Kids Arts & Crafts Class with Nate Yarbrough
Carlton Landing's Artist in Residence will inspire kids to connect with their creative side.
1:00 to 3:00 pm: Adult Art Class with Nate Yarbrough
Adults can relax and get creative with a class that focuses on large format abstract expressionism in mixed media
8:00 pm: Movie Under the Stars at Pavilion Park
The animated film "The Little Prince" will begin at dusk.
SATURDAY, SEPTEMBER 3
11:00 am to 1:00 pm: Barbecue on the Boardwalk Home Tour
Delicious barbecue will be served at several different homes. Pick up a map at the Meeting House.
7:00 pm to 9:00 pm: Holiday Dinner with Chef Josh Valentine
The Top Chef Finalist will prepare a three-course, gourmet feast with wine pairings.
For more info on the above events, please visit Carlton Landing's Community Event Calendar.
ABOUT CARLTON LANDING
Carlton Landing is Oklahoma's newest town. Grant and Jen Humphreys, the lakeside community's first residents, founded the community in 2011. The town occupies one of Lake Eufaula's most picturesque areas, with sandy beaches, towering cliffs, beautiful woodlands and some of the lake's finest water quality. Famed planner and architect Andreas Duany, known for designing the Rosemary Beach and Seaside communities on the Florida panhandle, crafted the Carlton Landing master plan with Humphreys in 2008. Inspired by the New Urbanism movement—which holds that life, work and play are all central to a community's vitality—Carlton Landing is the first development of its kind to become a distinct municipality. The master plan includes schools, a waterfront chapel, Nature Center, community parks, trails, and a town center with restaurants and shops. Plans call for more than 3,000 homes, a private residence club and a generational development timeline. For more information, visit http://www.carltonlanding.com.
# # #