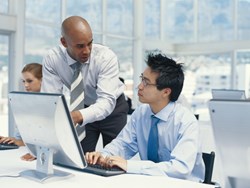 San Francisco, CA (PRWEB) August 13, 2013
Diversity in the workplace isn't the right thing to do anymore. It's the smart thing to do.
If there has ever been more evidence that the old boys' club is an old ideology, today's rough economic climate proves it. Frankly put, for a company to survive they will have to put aside their personal relationships, personal prejudice or whatever is considered extra baggage and get onto the business of winning. Jim Case Carlton's Training has recognized the global standard is the one that matters and diversity is key to capturing the market.
Diversity training videos have stressed that a diverse workplace is the only way that a company should do it. But now business owners are firing their girlfriend's brother and their very own nephew in favor of a qualified co-worker who happens to share a different religion, race or gender. The competition for jobs is only surpassed by the competition for business. And to win one you have to reconsider the other.
Strategically, companies are expanding to meet the demands in various different countries. And the techniques to do that have become more varied and thus the skill sets more diversified. So it was inevitable that different people with different backgrounds would fill vital positions to meet the demand.
The diversity video Village of 100 is an excellent example of how it takes numerous different types of people in a village to make it successful. And businesses know it. So now the big hunt for talent begins. And the neighborhood just got a lot bigger. No longer is diversity restricted. And no longer is diversity entertained, giving lower level positions to those different than the owners. The owners have realized diversity is vital in order to win. So now the only thing that ever mattered has leveled the playing field. Success.
Jim Case Carlton's Training provides programs like Meet on Common Ground and other diversity programs to instill the values and strengths diversity brings to an organization. It's a global initiative that all companies begin to embrace in the fierce business world. To view this program online or learn more about this organization, click on their site here at Jim Case Carlton's Training.