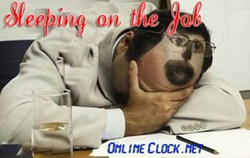 Los Angeles, CA (PRWEB) December 07, 2013
Carlton's Training Solutions has developed some interesting strategies that get the job done but may fly in the face of some who advise to skip the coffee and just get 'er done. They live in the real world and are less focused on what is supposed to be right than what is supposed to work. Here's Jim Case Carlton's Training look at some interesting and amazing ways to keep energy high especially in those tough afternoon hours.
Stay away from fruit. Fruit at work is the devil. The sugar found in fruit is a monosaccharide or simple sugar. It will spike you up like a candy bar and crash you down like Hulk Hogan. The big post lunch come down can be significantly reduced by avoiding fruit. It's supposed to be good for you right? And dieters love it cause it makes them feel full. Try the salad. Carltons Training Solutions states the fiber digests more slowly to avoid the drowsiness. Say it out loud. Fruit at work is the devil.
Drink coffee. Yes Carlton's Training Solutions said it. Coffee is actually okay. It's okay to drink coffee but here's the caveat. Drink it at the same time each day and preferably with your lunch. The caffeine can be absorbed better and with a good light lunch can help assuage the up and down of coffee. Drinking it at the same time each day may make your body grow addicted to it. But if you're already a coffee person you might as well be smart about it.
Eat a light lunch. Jim Case Carlton's Training states that the reason people go into post-lunch comas is because their body is focused on digesting the large pasta dish they had with the new manager. The blood is all working overtime and saps energy from you. This is why the worst time is an hour and a half after lunch. This is when people are usually void of any usable energy. Eating a light lunch doesn't overhaul the system and force it to crash.
The power walk lunch. A lot of people do their banking, errands or even workouts at lunch. But then come back to their desk and eat their lunch. Fine and dandy. Jim Case Carlton's Training advises to try doing that power walk afterlunch. Two things will happen. If you give yourself a little time to digest (like an hour), the power walk will help you digest the food faster and thus avoid the long digestive period while at the desk. These tips may not be the ones that others may advise but Carlton's Training Solutions shows that they are the ones that work.