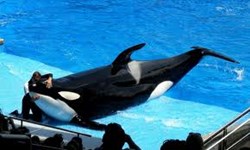 New York, NY (PRWEB) August 21, 2013
Stay positive at work? How, when there are a million reasons not to be? First, there is the loud rousting out of bed by an alarm! Then there is scrambling to look like an elegant guest at a wake. Then the awful traffic and the people in that traffic. The horns, the sirens the ugh of it all. And that's all before anyone steps foot in the workplace. But there is a whole new way to look at these things and all the other items that come across a normal employee's day and how they can be fantastic.
Ken Blanchard is the doctor of modern employee training. Ken Blanchard training programs seem to always focus on one central theme. Producing results though positive change. What are the positive aspects of the work environment? Who are the great people that work in that environment? And lastly, how does one prepare to be positive at work with so many examples to the contrary?
Ken Blanchard did a study with killer whales that resulted some fascinating examples featured in his Whale Done video. The killer whales did everything they were told. They did back flips and splashed all about and let humans ride on their noses! How did these whale trainers get these mammals one hundred times their weight to do their bidding? They focused on the positive aspects of their job and their interaction with others every day. And the results are astonishing.
But one interesting thing happened. One day one of the trainers who always rewarded the killer whales for great performances saw something he didn't like. He decided to punish the killer whale. Did the whale change? No, he's bigger than the trainer so he lifted him up with his nose and set him on a high place upon which he couldn't climb down from! The lesson is in dealing with any co-workers or problems at work, it is the focus on the positive that brings about the desired change.
In a Ken Blanchard leadership training video, the positive opportunities underline where the changes will take place. So the next time anyone is stuck in traffic, they should think about how they aren't stuck for an hour but that they have an hour to talk to someone on the headset they never get to catch up with. Or think about how great it is to have a job to go to this morning. Or think about how this song that just came on reminds one of a great time in life. To learn more about staying positive at work, Ken Blanchard or Carlton's Training, click on the link here to read about Carlton's Training.