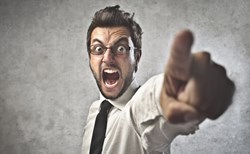 Seattle, WA (PRWEB) August 30, 2013
There are just a few things that can really dictate whether a manager gains the respect of their people or loses them with a big blunder. And yet these three items noted here are the most common mistakes managers make. Otherwise most people would be talking about the boss they love so much. Take a look at these top three things from Jim Case Carlton's Training that managers do to lose their teams.
Yell. Whether in an email or in person, in front of peers or behind closed doors, there is nothing employees complain more about than being yelled at. It's almost as if the fact they are incompetent is overshadowed by the fact the manager yelled. Whether the employee deserves it or not, is great at what they do or not, yelling at them gets them off scott-free. In the training video The Practical Coach, it is often stressed to never yell and to never make it personal.
Micromanage. Employees know their jobs, or should. By micromanaging every detail, managers simultaneously erode trust while wasting tons of their own time doing someone else's job. Avoid this at all costs! Ken Blanchard had a philosophy he shared in the Whale Done video about developing trust. It is the prize all managers should shoot for. When trust is established managers are free to delegate more and more, making their lives better and free of stress. It also keeps employees happy they are out of their faces.
Take sides. No parent will ever admit they have a favorite child, at least not to their children and there's a very good reason for this. When they choose one over another the one not chosen as special doesn't feel they can ever achieve and they don't try. And that's what employees do when one employee is chosen over another or the manager takes a side on an issue. All management training videos stress to resolve always but never take sides.
Any manager reading this is thinking that these are the very things they hated in a boss from their past. The reason most bosses make these three errors repeatedly is it's very hard not to. They are all knee jerk reactions sometimes without the knee. To view any of the programs mentioned in this story online or read about the people mentioned here click on this link: Jim Case Carlton's Training.