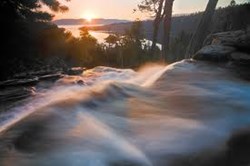 Detroit, MI (PRWEB) November 04, 2013
Fun and work seem to be isolated terms and rarely used in the same sentence together. But corporations that are fun to work for have greater retention, higher profits and happier people. So why aren't more companies focused on making work fun for their employees? That's a very good question. Jim Case Carlton's Training announces a new plan to help organizations maintain a greater retention rate and increase their profits by making their workplace a fun place to do businesses.
Modeling behavior is a primitive strategy but one that is still used today because it works. If someone implements an attitude, or tries an experiment and it works it is soon duplicated. The one person who serves as a great model for enjoying his work is none other than National Geographic photographer Dewitt Jones.
Jones developed a program called Celebrate What's Right With The World. He realized on his lecture tours that although he had a lot of businesses showing up and having a good time, they weren't having a good time at work. His theory is the more someone loves something the more of it they will do. And of course the more someone does something the more skilled they become. This is a big asset for any organization.
But the fun element really was brought home when he found that when employees have fun and become more skilled they love it more and do it For the Love of It. Most people lose that feeling for their job that they began with either because their job has ceased to be their passion or it has so much repetition that all the spontaneity has been driven from it. But in the Dewitt Jones programs he demonstrates to businesses how they can always find the love of their job as he does each and every day.
Having a passion for what he does is just one thing that makes Jones special. His ability to reach other organizations and help them find their passion in their work and their company,as a whole is what makes businessmen and women stand up and make changes. To view any of the Dewitt Jones training videos or learn more about this organization click on their site at Jim Case Carlton's Training.